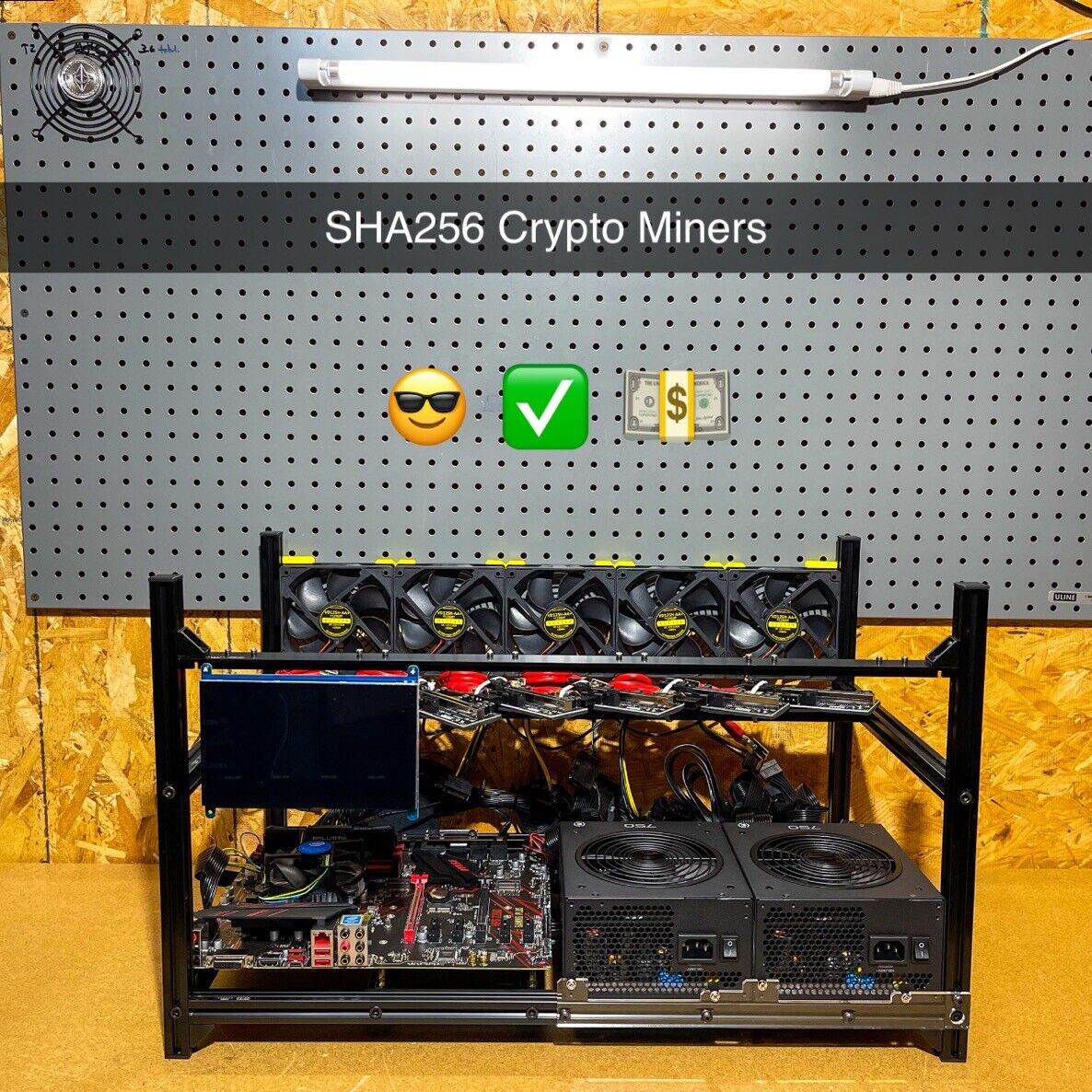 Price: 1,399.00 USD
Bitcoin Miner:
V6 6x GPU Mining Rig (HiveOS|Win10, 1700W Dual PSU, 7″ LCD, TZ590 MoBo) NO GPUs
/Start earning a passive income 24/7 with this professionally built GPU MINING RIG. 
/You can mine all GPU minable coins such as ETH-ETC-RVN-FLUX-ERG-BEAM-XMR-FIRO-ETP-CLO among others
/This is an All-In-One Mining Rig made with Premium Components. This mining frame will support up to 6x Graphics cards.
/Same setup has been tested in real 24/7/365 Harsh Mining Conditions for years.
/Full personalized support for new or seasoned miners. We help our customers to decide GPUs, PSUs and OS depending on their needs.
/Rig comes with modified Bios for mining.
/HiveOS, this hassle free Linux based operating system or Windows 10 will be installed.
/ Access to Youtube video lessons for installation and troubleshooting.
/ Instagram @SHA256_Crypto_Miners
/ Facetime-Whatsapp video calls or SMS for help.
/ Compact and secure packing for shipping.
/ Mining rig comes with SATA and VGA connected to PSUs and zip tied for shipping security reasons.
/ Risers are zip tied to frame and not connected to SATA cables for shipping security reasons.
/ Show off your mining rig at our Instagram page.
/ Please be aware that mining is not an spectator sport, if you do NOT have problem solving skills do NOT enter this world.
Specifications:
1x…..Intel CPU.
1x…..Biostar TZ590 Dual Mining Motherboard (Intel) .
6x…..8-Capacitors Risers.
Power……1700 W, 80+ Gold 850W EVGA Dual Power Supply Unit (5 Year Warranty).
1x…..8Gb RAM memory Crucial Ballistix 3200 MHz DDR4.
1x…..Solid State Drive, SSD 120GB Internal SSD 
1x…..Veddha V6, 6x GPU Black Anodized Aluminum.
5x…..Veddha Cooling Fans.
1x…..7″ LCD Display.
1x…..Adapter to connect third PSU if needed.
1x…..Preinstalled HiveOS or Windows. 
Size of frame……25″x16″x16″.
Graphic Cards (GPUs) are NOT included.
The rig will ship fully assembled. Handling time range from 10-15 business days depending on demand.
Disclaimers:
Hash rates may differ based on internet connection and operating temperature. 
Shipping related charges such as customs are NOT included for international orders outside of the US.
International customers may be required to purchase a separate power supply cable or adapter in order to connect to a power source