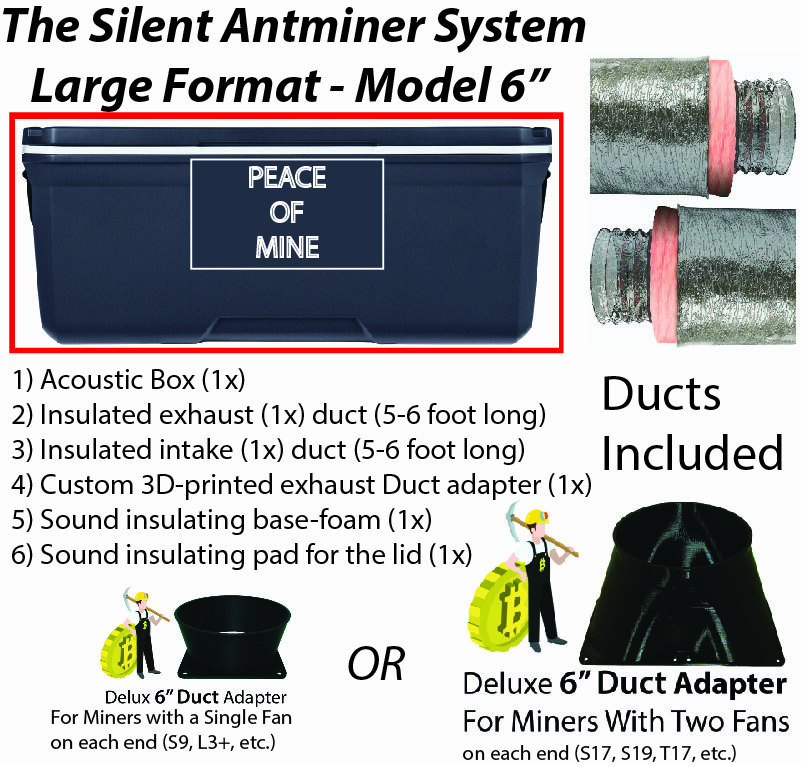 Price: 205.00 USD
Bitcoin Miner:
The Silent Crypto Currencies Antminer System Extra Large – Model 6″
Custom-Made Antminer Noise Insulation / Reduction System
The system includes: 
1)  Acoustic Box (1x) 
2)  Insulated exhaust (1x) duct (5-6 foot long)
3)  Insulated intake (1x) duct (5-6 foot long)
4)  Custom 3D-printed exhaust Duct adapter (1X) 
5)  Insulating Pad for the lid (1X) 
Reduction in noise allows having several ASICs in the same room without suffering significant noise. 
Noise may further be reduced in a cool environment (air-conditioned room).
No permanent modification to your miner.  
The provided duct adapter is attached to the miner with existing screws.
The provided intake duct is inserted directly into the box.
The provided exhaust duct fits right around the duct-adapter (provided). You may choose to secure the duct with tape or a zip-tie, but this is not necessary. 
*       Significant Noise Reduction (Depends on the Equipment used and its configuration)
**     Please ensure that, prior to turning your miner on, the ducts are not kinked or blocked in any way. This will facilitate the removal of the hot air away from the miner and prolong its lifespan. 
         A Cool and Quiet Antminer = A Happy Crypto-Miner !!!
***   Additional ducts and adapters may be purchased from us. Please see our other items, or contact us for more information. 
**** The color of some components may vary based on availability. The last picture shows how all our systems are configured.  Any questions? Just ask, I'm here to help!