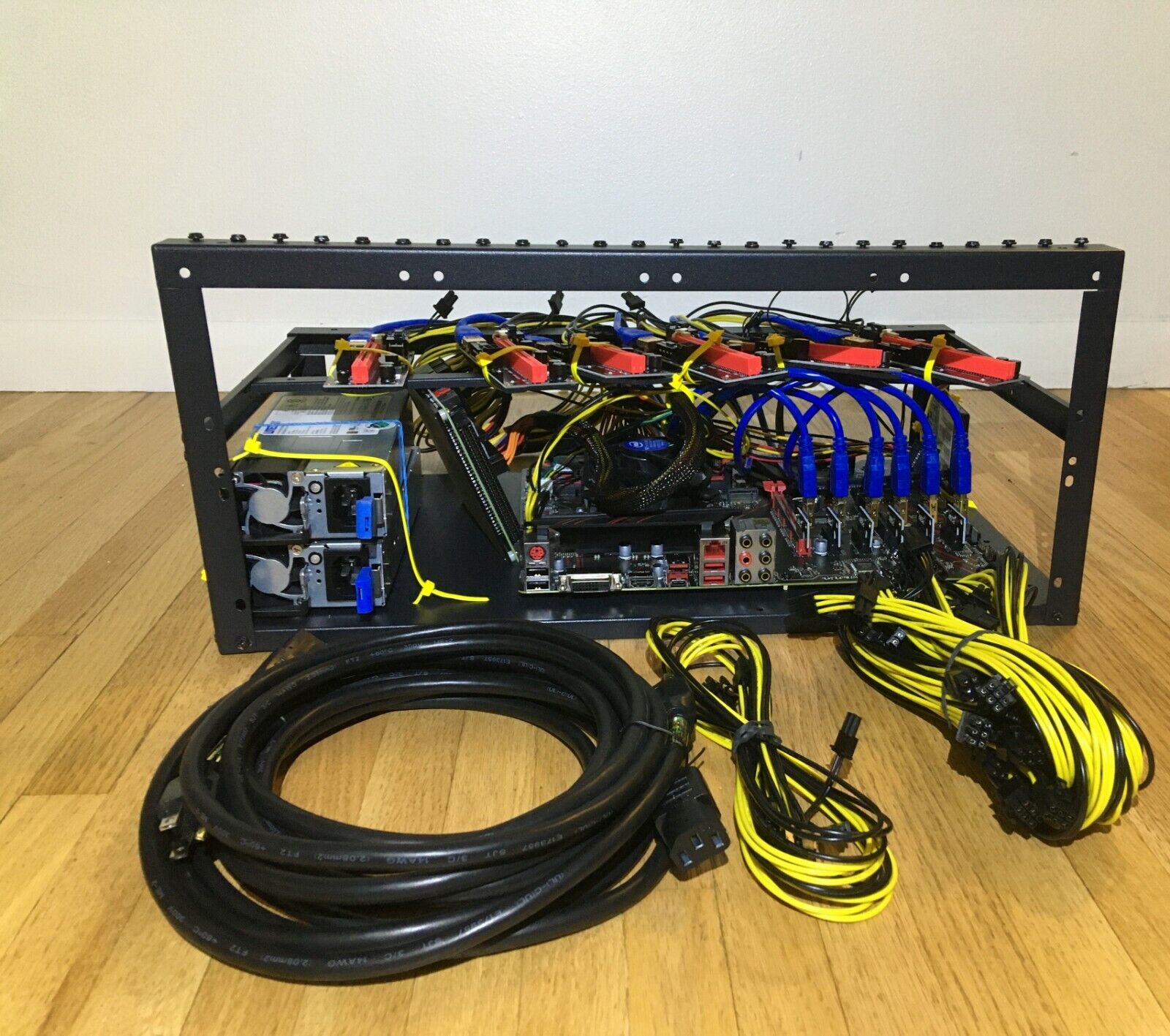 Price: 999.00 USD
Bitcoin Miner:
NEW Pre-Assembled Mining Rig Kit (6 GPU FRAME , PSU, CPU, SSD, Win 10) NO GPUs
Start mining today with this professionally built pre-assembled mining rig! Earn passive income while you sleep!
Maximize your profits by mining the best cryptocurrencies like Ethereum, Bitcoin, Ravencoin, Ergo and much more.
Run this mining rig 24/7 with no maintenance or downtime.
Parts picked by experienced miners for the best price to performance.
Free Tech Support on Discord: UltraPlayz#1531
Works with: RTX 3000 Series, RTX 2000 Series, GTX 1000 Series, Radeon 6000 Series, Radeon 5000 Series, Radeon VII, Radeon 500 series, Radeon 400 Series, Radeon 300 series and more.
PROS:
Mining application is pre-installed for less hassle.

The BIOS is modified to maximize your mining with the most optimal settings.

Hassle free setup to start mining right away with ease. Start with the click of a few buttons and run at peak efficiency.

All setup is already done besides putting in the GPU's for your convenience.

Free Tech Support on discord
Specifications:
Computer Processor

8gb DDR4 Ram

2x 750w Gold Server Power Supply With Power Boards (1500w total)

240GB M.2 SSD

6x PCIe Riser

Industrial Aluminum Open Air Frame

2x 14awg Power Cords for Power Supplies

20x 8 Pin Power Connectors for GPU's and Risers

Windows 10 Preinstalled on SSD
Graphics Cards (GPUs) are NOT included.
This mining rig will ship fully assembled, just add GPUs.
Handling time is 10-15 days, then it will be shipped with UPS mail.
Everything is set up. Just add graphics cards and download drivers.
Disclaimers:
Orders are only allowed in the USA

Ethernet cable for internet is recommended for the best reliability.

Remember the 80% rule for power. Only use 80% of the maximum power for a power supply, cable, or wall outlet.

Returns are not accepted.

Please message me if you need more power in your power supplies.