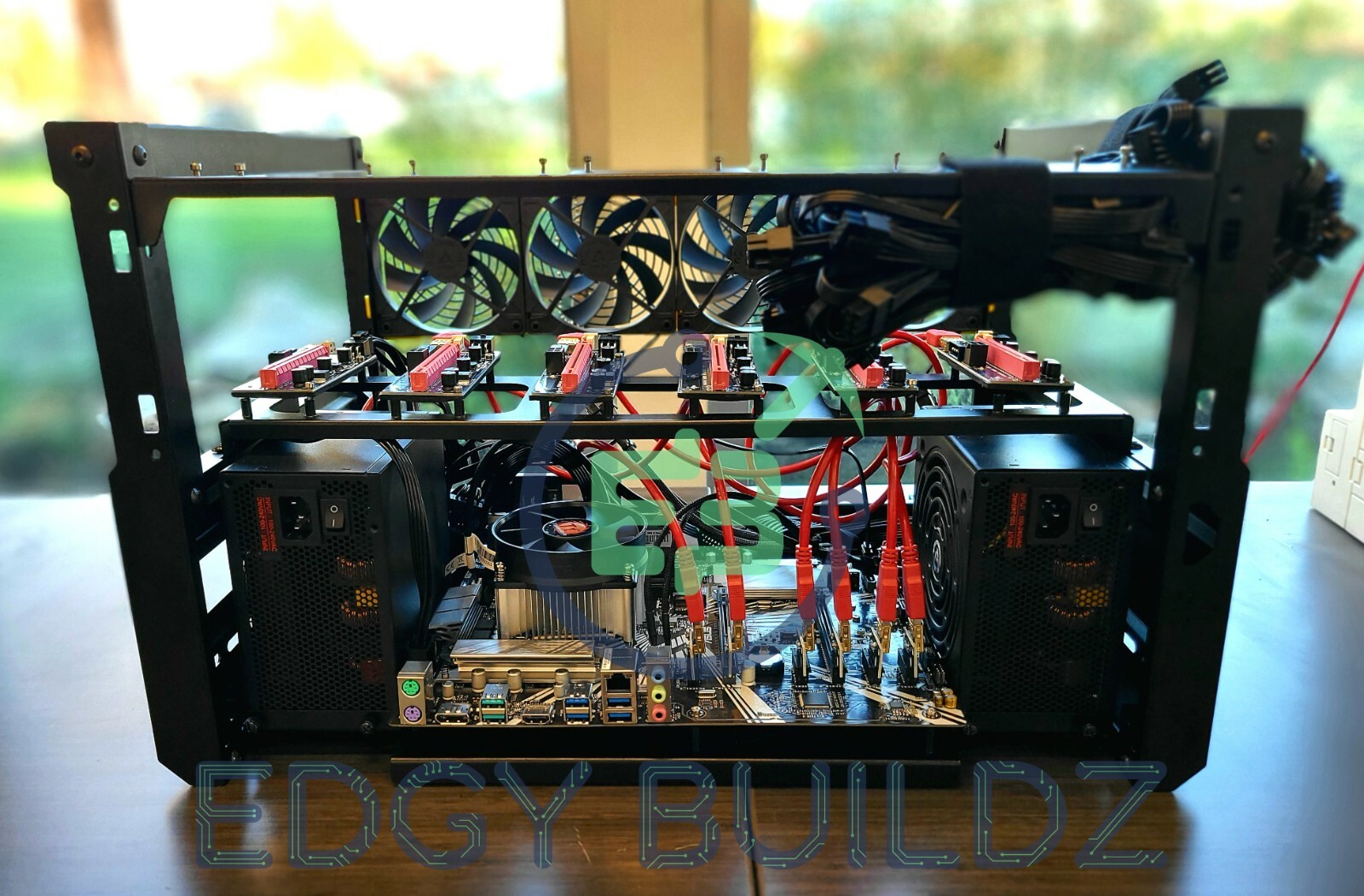 Price: 2,800.00 USD
Bitcoin Miner:
Getting Started:
Mining on our rigs is very easy. You'll need to follow these steps before you begin mining on the new rig.
Create a Minerstat account and familiarize yourself with the dashboard you'll use to setup the rig as a worker.
https://my.minerstat.com
Next, you'll create a wallet if you don't have one yet. We recommend using any of the following wallets:
1. Trust – https://trustwallet.com/
2. Kukoin – https://www.kucoin.com/
3. Kraken – https://www.kraken.com/
4. Binance – https://www.binance.com/
If you are wondering which coins or crypto are currently the best to mine with your GPUs, check out this website:
 https://whattomine.com/
Lastly, you will need all of the following devices to connect to your mining rig:
1. Ethernet cable or Wifi Adapter
2. HDMI or DisplayPort cable
3. Monitor/TV with HDMI or DisplayPort
4. Keyboard and Mouse
Our Featured Product:
State-of-the-art efficient mining rig for mining cryptocurrency which accommodates up to 6 GPUs!
Get your pickaxes ready for all your favorite coins including our favorite Ethereum!!
Your rig will comfortably mine many choices of crypto coins including… 
the popular Ravencoin and Ergo. 
(Just Add your GPUs and you're ready to mine!) 
Our Edgy Buildz, LLC, Promise:
Our rigs are carefully selected and built with the most optimal computer components for all your mining desires. Each build is run through proven technical tests to ensure every component is ready to just plug-n-play!
Our software developer loads the compatible drivers and OS for an easy adaptation for mining. 
Pre-loaded software is user friendly for even the novice miner. 
Your rig has the capacity to hold up to 6 GPUs, graphics processing units, with all the cabling included. It is compact, lightweight (24lbs), and hums along quietly. After all, who doesn't like the soft jingle of coins dancing in their pockets!
We are confident you will find your rig easy to set-up. You will start earning cryptocurrency moments after you plug-it-in, turn-it-on, follow easy prompted personal settings, and login to your favorite secure cryptocurrency exchange platform such as Coinbase, Binance or Kraken.
Crafting your Rig:
Each of our rigs are carefully constructed under close technical observation during the build process. We take special care throughout the entire process and test each rig thoroughly to make sure all hardware and software is running optimally. Our builds normally take between 1-3 days in contrast to some competitors unable to handle the expedient turn-around-time. 
Optimal Shipping Process:
Building Process takes 2-3 weeks after payment is confirmed. Once your rig is built, we waste no time in getting it shipped out to you. This process usually takes 3 to 5 business days and shipping is always fast. We ship through FEDEX Delivery and they're pretty quick!
The rig comes to you fully assembled and ready to mine.
[SPECS]
– Operating System: Windows 10
– Motherboard: Z390
– RAM: 8GB DDR4
– CPU: Intel i3-9100 Quad-Core
– Hard Drive : 128GB SSD
– FANS: 4 x Arctic 120mm
– RISERS: 6 x 16x to 1x PCIE
– CASE: Veddha 6 GPU Miner Case T3
Power Draw: 
3060ti-3070 under 2000 watts
3080-3090, over 2200 watts
Sound & Noise: 
About 42 decibels with frame fans running at lower power. (quiet room)
About 50-60 decibels with frame fans running near full power. (light conversation)
Dimensions: 
[L] : 22in.   [W] : 15.5in.   [H] : 13.5in.
NOTICE: In accordance with United States of America Copyright laws, we advise you that unless otherwise expressly stated herein, any company Edgy Buildz, L.L.C. descriptions, verbiage, discussions or guidance of virtual currency in this communication or any attachment or link(s), is not intended to provide investment advice, and is not to be used and cannot be used for the purpose of advertisement for like, similar, or even slightly related items for sale in e-Commerce. The information contained in this transmission is private, attorney-backed privileged and confidential. If you are not the intended recipient, nor the potential customer or agent responsible for delivering it to the intended recipient, you are hereby notified that any review, retention, dissemination, duplication or any and all other use of, or taking of any action in reliance upon this communication (including but not limited to any attachments) is strictly prohibited. The logo EBz, slogans, catchy phrases and descriptions personalized, marketed and branded are the sole ownership, copyright and original content of Edgy Buildz, L.L.C..
DISCLAIMER: Mining with GPUs is relatively safe, I've designed these mining rigs to be strong and durable. I mine using the same rigs in my home with zero issues. That being said, it is still a risk you are taking when operating the rigs in a non-efficient manner. By purchasing these mining rigs, you agree to accept that risk, and agree that EdgyBuildz is not responsible for any damages or malfunctions caused by using our products.
Thank you.