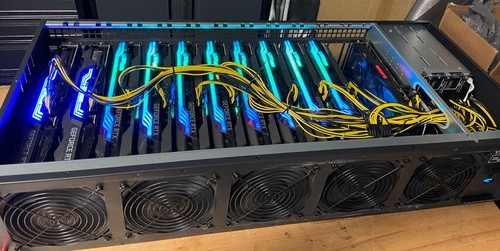 Price: 7,895.00 USD
Bitcoin Miner:
mining rig with (10) Zotac RTX 3080 gpu. (non LHR) Miner Dude 12 xtreme case
All devices remains in best working condition and is Final sale and no Returns.
mining rig with (10) Zotac RTX 3080 gpu. (non LHR)
likewise consists of (1) Gigabyte RTX 2070
Hive OS set up
Intel G1840 CPU, 2.8 Ghz Dual Core
3600 W overall power supply (3×1200 W Hot Swap Server Power Supplies
8GB DDR3 RAM (32 GB MAX)
60 GB SSD (broaden approximately 3x SATA DRIVE)
MINERDUDE CHASSIS WITH 5 HIGH POWER 140 x38 MM COOLING FANS (HIGH AIRFLOW, PWM SPEED CONTROL)
MINERDUDE HARDWARE WATCHDOG & & SMART FAN CONTROLLER (automated fan speed control, automated system reboot, status LED's, OLED display screen with system details)
BOSCH ENVIRONMENTAL SENSOR (Air pressure, temperature level and humidity readings on both inlet and temperature level for exhaust air)
HiveOS PRE INSTALLED (Supports SMOS/ MSOS/ Kudo/ Hive) Windows too however depends upon your variation
UNIT DIMENSIONS: 35.5 in x 15.75 in x 7in
.