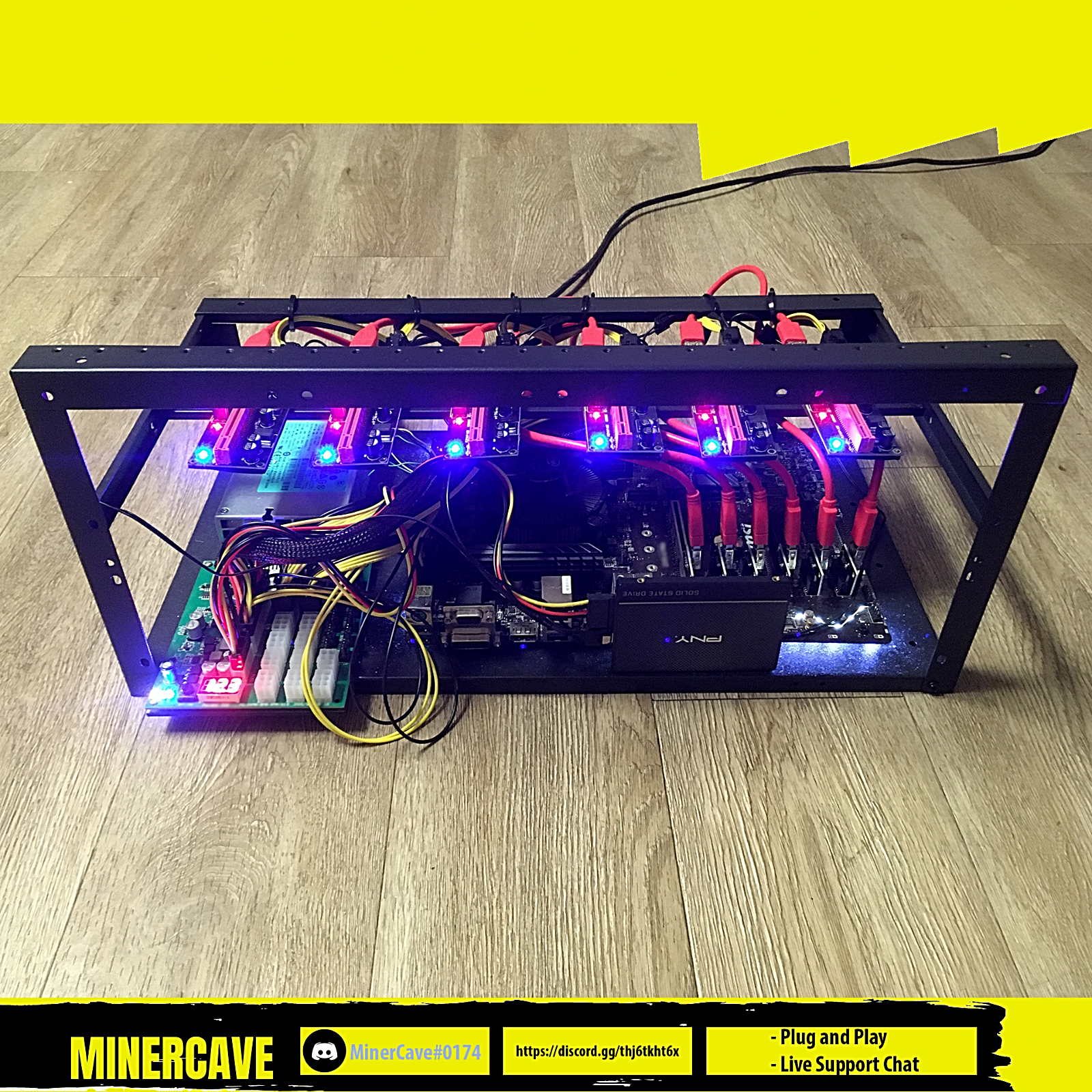 Price: 1,205.00 USD
Crypto Miner:
Mining Rig Kit (Plug+Play) 6 GPU slots, Open Case, PSU, CPU, SSD, Win 10 NO GPUs
We create custom builds.  Send a message to have a Rig built to your exact specifications.
This Mining Rig is truly plug and play.  Just add your graphics cards of choice and start mining.
We pride ourselves in providing the best customer support experience on the market.  Check out our reviews to see why MinerCave is the top choice for new and experienced miners alike.  
Fully assembled rig – When you open the box, the rig will already look like the picture.  All possible setup steps have been completed, this includes the completed physical build of the rig in addition to the technical setup.
This Rig boots straight to its pre-installed Windows 10 Pro.
MinerCave Crypto Miner
Start earning a passive income 24/7 with 

Ethereum(ETH) / Ethereum Classic (ETC) / ZCash(ZEC) / Ravencoin(RVN) and many other coins with this professionally built GPU MINING RIG

. 
Plug and Play Mining rig prebuilt with Windows 10 or HiveOS installed.  Add up to 6 GPUs, plug in and turn on, and start mining.
This is an 

All-In-One Mining Rig for both new and experienced miners made with Premium parts.  
Full personalized support.  Build questions, setup help, and any other needs the customer may have
Fully compatible with nearly all modern Graphics Cards (GPUs)
Cryptocurrency miner compatible with nearly all modern GPUs:  
RTX 3000 Series, RTX 2000 Series, GTX 1000 Series, Radeon 6000 Series, Radeon 5000 Series, Radeon VII, Radeon 500 series, Radeon 400 Series, Radeon 300 series and more.
Specifications:
Professionally assembled in America.  Carefully selected hardware for optimal mining setup.  We don't cut corners in build quality or hardware selection.  We pick new parts from recent generations of products that use low power consumption to create the ultimate mining systems.  No compromises.
Software
NiceHash Miner and 2 other top mining software choices already preinstalled.  You have the option of mining dozens of Alt Coin choices directly, or using NiceHash Miner to convert all profits to Bitcoin instantly.  
MSI AfterBurner – Easy overclocking tool to fine tune GPUs to have the maximum mining profitibility
Operating System 
– Windows 10 or HiveOS pre-installed (Send a message if you want HiveOS instead of Windows)
Power
– 1200 Watt Power Supply (Send a message with your configuration if additional power is required or check our other listings)
– Flexible compatibility:  Compatible with modern power outlets in the US and abroad.  Works with both standard US wall outlets (100-120V), and 200-240V
Components
– ATX 24 Pin
– Premium Power Board with 16 pcie 6-8 connection slots
– Fresh Intel CPU 
– Intel Stock Cooling Fan
– 8GB RAM 
– Fresh 6 slot Motherboard
– Sturdy High quality Iron Frame with Heat Dissipation
– 6 Premium Solid Capacitor GPU PCI-E Risers with Cables
– 12 PCIe Cables
– Power Cable
– 128 to 256 GB SSD
– GPU Mounting Screws 
– Zip Ties
Tech Support
2 week returns.  Tech Support never expires.

International customers must pay extra for shipping. 

Join the discord for chat and live support any day of the week  ->  

https://discord.gg/thj6tkht6x

or add MinerCave#0174 to your friends list.  
We do bulk orders.  Reach out for details.