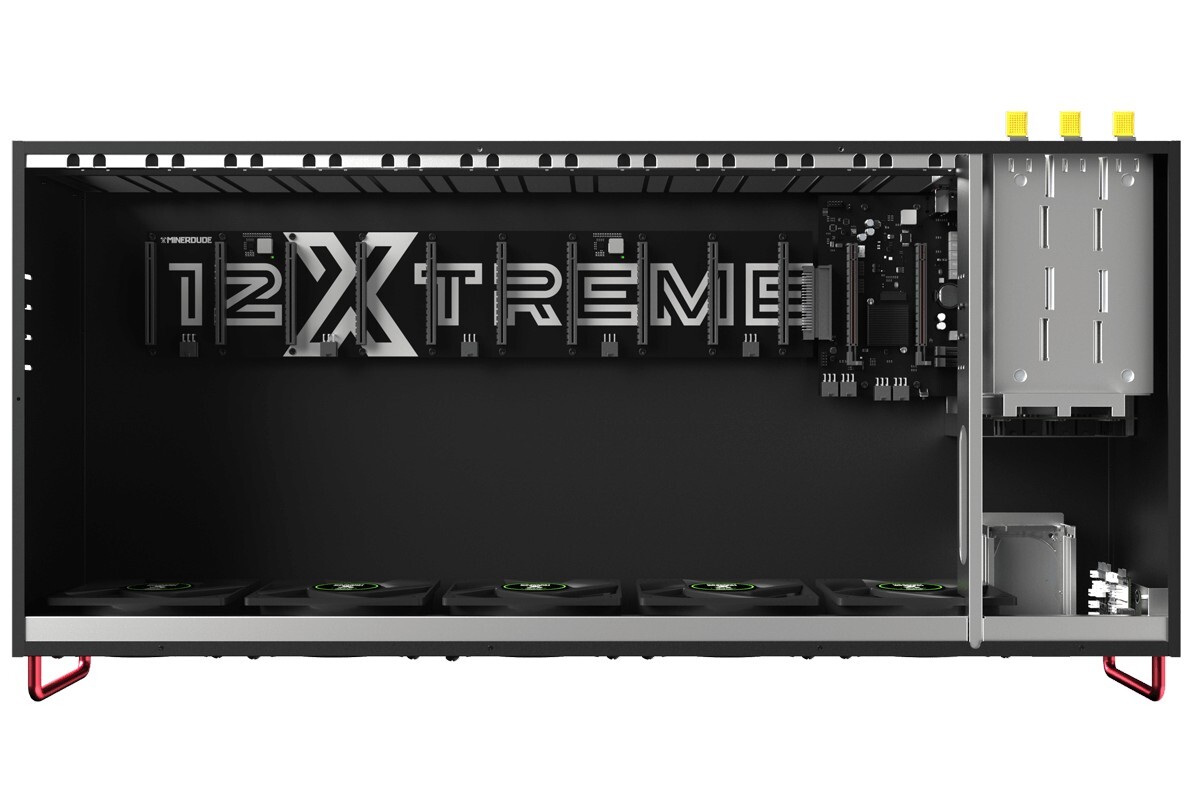 Price: 20,000.00 USD
Bitcoin Miner:
MINERDUDE X12 XTREME 12 GPU SMART MINING RIG – 3600W w/12 rtx 3080s In hand.




Just because crypto crashed doesn't mean it will stay down. It is actually the best time ever to buy
cryptocurrency
and cryptomining
hardware
before the big holiday rush and prices go back up!
MINERDUDE
X12 XTREME 12
GPU
SMART
MINING RIG
– 3600W w/12 rtx 3080s In your hands within 1-5 days.
Intel G3900 CPU, 2.8Ghz Dual Core
Power Supplies)
32GB DDR3 RAM (32GB MAX)
512GB SSD (expand up to 3x SATA DRIVE)
BOSCH ENVIRONMENTAL SENSOR (Air pressure, temperature and humidity readings on both inlet and temperature for exhaust air)
SMOS PRE INSTALLED (Supports SMOS / MSOS / Kudo / Hive) Windows as well but depends on your version
UNIT DIMENSIONS: 35.5in x 15.75in x 7in
SHIPPING DIMENSIONS: 38in x 21in x 10in
WEIGHT: 53Lbs
1 YEAR WARRANTY ON ALL PARTS
TRI POWER CABLE IS INCLUDED! 3 x C13 to 1 x C20 (You will need a c-19 to whatever your outlet is cable – OR use 3 x C13 to your outlet
SPACING
COMPATIBLE WITH ALL
TRIPLE SLOT WIDTH GPUS
ENTERPRISE GRADE POWER DELIVERY
CLEAN AND HIGH QUALITY
POWER DELIVERY
18AWG CABLES
24X PCIE 6+2P CONNECTORS
SMART POWER
SUPPLY TELEMTRY FEATURES:
MONITOR PSU INPUT AND EXHAUST TEMPERATURE
MONITOR AND CONTROL PSU FAN SPEED
MONITOR PSU 12V OUTPUT VOLTAGE
MONITOR PSU AC INPUT VOLTAGE
MONITOR POWER CONSUMPTION
*Optional 277V Upgrade possible (3x 1400w 27V for Combined 4200W Total) COMPATIBLE WITH RTX 3090
1 YEAR INTERNATIONAL WARRANTY
140X38MM FANS, HIGH AIRFLOW & EFFICIENCY
HIGH PERFORMANCE & LONG LIFESPAN FANS
HEAVY DUTY ROHS CERTIFIED PLASTIC BLADES AND HOUSING.
OPTIMIZED PCB AND MOTOR DESIGN (UP TO 20% MORE EFFICIENT).
IMPROVED RELIABILITY AND HEAT DISSIPATION DUE TO THICK COPPER PCB.
RELIABLE JAPANESE NMB DOUBLE BALL BEARINGS FOR INCREASED LIFESPAN.
HIGH PRECISION AND EFFICIENCY PWM MODULATION SPEED CONTROL.
140X38MM SIZE PROVIDES HIGHER AIRFLOW AND EFFICIENCY AND ALSO LOWER NOISE.
ENVIRONMENTAL DATA
TEMPERATURE – HUMIDITY – AIR PRESSURE
SOFTWARE INTEGRATION
ACCURATE POWER CONSUMPTION AND VOLTAGE READINGS
DEBUG LED (4 DIFFERENT COLOR LED'S ON THE FRONT OF THE RIG) TO HELP QUICKLY AND EFFICIENTLY FIND, DETECT AND TROUBLESHOOT PROBLEMATIC RIGS.
FULL ENVIRONMENTAL DATA READOUT PER EACH RIG. INPUT TEMPERATURE, EXHAUST, HUMIDITY AND EXHAUST TEMPERATURE.
FRONT PANEL OLED SCREEN INTEGRATION THAT DISPLAYS ALL THE MAJOR DATA FROM THE RIG. HASHRATE, IP, MAC ADDRESS, POWER CONSUMPTION, BAD SHARES, FAN SPEED AND TEMPERATURE.
1850W – 821MH/S