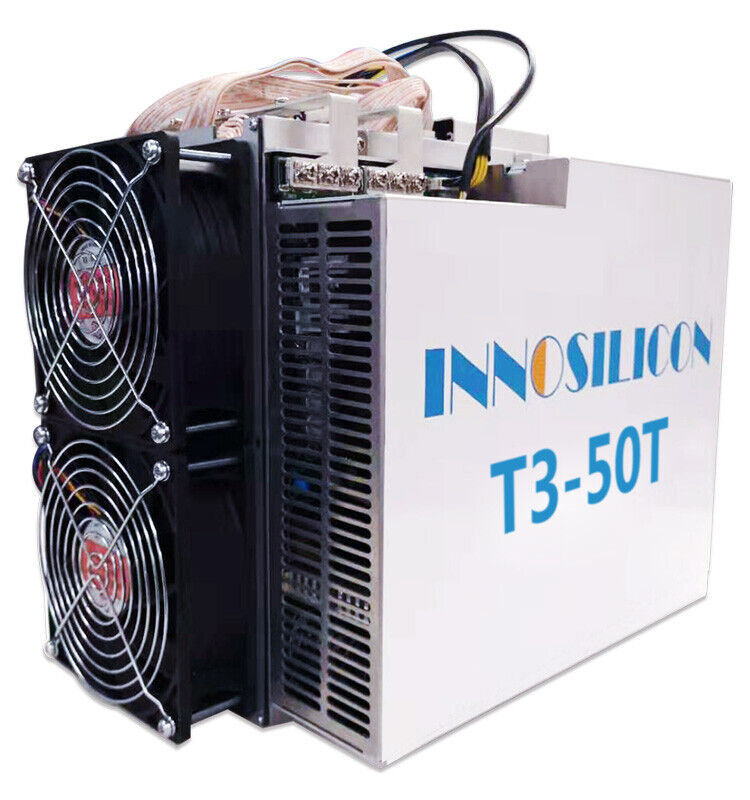 Price: 2,299.99 USD
Bitcoin Miner:
Innosilicon T3 T3H+ T3H+50T T3H50T 27.7 TH/s Bitcoin Miner BTC BCH 1 Bad Board
This listing is for one Innosilicon T3H+ 50 TH/s Bitcoin Miner.  Only 2 out of the 3 hashboards are working.  All three hashboard lights come on at bootup but then one hashboard light goes out and only two of them startup and run.  Case and unit are in excellent condition: no dents, no cracks, no discoloration and no missing, bent or broken pieces.  The unit is guaranteed to run at 27.7TH (+- 6%) upon arrival.  No repairs were attempted so it is possible that the 3rd board could be repaired.  Price has been adjusted to account for the lower hashrate.
The power supply is included with this unit.  It requires a 210-240v power source and can be damaged if used with a normal U.S. 120v outlet.  Due to the large variety of power sources that this works with, it does not come with a power cable and you will need to buy or build your own.  The miner has a C20 socket on it so you would need a C19 Plug on the miner end of your power cable and the appropriate plug for your PDU or wall socket on the other.
It will ship in the original factory box and packaging.  The item is guaranteed to work as described on arrival; however there is no on-going warranty provided.
If you have any problems upon arrival, please feel free to contact me for assistance.
Innosilicon, the industry leader of all coin crypto mining ASICs, launches a new powerful BTC miner with enhanced performance. It adopts the state-of-the-art technology and reaches 50TH/S in high hash mode. In case of energy saving, this miner also provides a high efficiency mode with 33 TH at 1650W.
Hashrate:

50TH/s (+/-6%)

Power Consumption:

3100W ( +/- 10%, normal mode, at the wall, PSU efficiency: 93%, temperature: 25°C)

Dimensions:

303mm(L)*203mm(W)*278mm(H)

Allowed ambient temperature range:

0-40°

Net Weight:

10.5KG

Network Connection:

Ethernet

Note:

The miner can not only achieve the maximum hash rate 50TH (+-5%) at 3100W (+-10%) in high hash mode but also can reach 1650W (+-10%) for 33TH (+-6%) in the energy saving mode as needed.
Please make sure your farm use proper cooling, dust filter and 16A AC cable to meet the proper operating condition requirements.
Humidity <75%, AC voltage 210~240V, Power supply AC input current 16A, dust <0.5 Mg/m3.