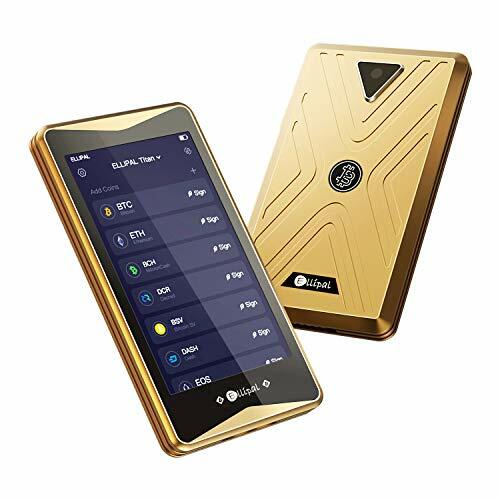 Price: 240.41 USD
Crypto Miner:
Hardware Cryptocurrency Wallet – Cold Wallet Gold Titan, Air-gapped & Internet
Hardware Cryptocurrency Wallet – Cold Wallet Gold Titan, Air-gapped & Internet
Product Description
【Support Multi-Currency】Why you don't choose Golden Titan cold wallet if you are looking for a personal private security key for your digital crypto assets? This cold wallet supports around 35 blockchains and 7000+ tokens such as TOP 3 most coins- Bitcoin(BTC), Etum(ETH), Litecoin(LTC), etc.. The server is updated every month to provide you the newest coins options for ensuring you can purchase these assets to your account immediately, maximizing all transacting possibility. 【Isolated-transaction &Anti-tamper】Still worried about HACKER ATTACKING? MONEY LOST? This crypto wallet features anti-tamper, offline protection, which mainly relies on QR code to transfer coins without any other carriers such as USB, WIFI, or Bluetooth. cold wallet entirely protects the safety of your bitcoin(BTC), etum(ETH), and other cryptocurrencies. The private data is automatically deleted once a breach is detected. Get your personal crypto assets protector NOW! 【Durable and Air-gapped Protection】Short Lifespan? No! This crypto wallet was made up of a strongly sealed metal martial case against physical attacks, which is impossible to open without leaving permanent damage. In addition, the air-gapped protection and IP65 rated hardware case can keep water, dust, impact, and crush away. All features promise this premium hardware wallet have a longer life than other wallets. 【Maximum Convenience & Efficiency w/ APP】Real-Time Trading anyw and anytime. this phoned-sized hardware wallet is portable, you can keep it in your pocket everyw. And APP features a simple, step-by-step process to help you create and recover your accounts. You can easily set up accounts in less than 5 minutes, trading directly from your APP to cold wallet storage by scanning QR code without any technical problems. 【Multi-payment Option & Quality Assurance】Don't need worried about the complex checling out process anumore! hardware wallet supports Paypal, credit/debit card, cryptocurrency payment method,which efficiently saving your time. Besides provides 12-months quality assurance, always be with you. Gloden Titan is an air-gapped hardware wallet that completely isolated from all network connections. It protects your coins from being aimed by hackers so keeps any remote attacks away. Data transfer is only accessible via a secure QR code without connected to any network or other devices. Safest cold wallet for cryptocurrencystoring&transaction.Reinforced with strong metal cg to resist against any physical abuse, Titan is the world's first fully metal sealed hardware wallet. It build-in anti-disassembly&tamperingdesign with IP65 water&dust proof rating. It provides ultimate protection against chain attacks, evil maid attacks, any intended tampering from thief and hackers.Native supports 30 currencies and all ERC 20, TRC 20, TRC 10, BEP2 and EOS tokens. Titan updated coins support every month. (Includes but is not limited to BTC, XRP, ETH, XLM,USDT, LTC, DASH, EOS, ETC, DOGE, BTG, DGB, BTX, BCD, DCR, XZC, GRS, BCH, TRX,CMT, SMART, ECA, BNB, ADA, BSV, PTN, XVG, HPB, WTC, FLRN) features a simple, step-by-step process to help you create and recover your accounts. It supports multiple languages w/ easy connections to app by just a single QR code. Your cryptocurrencies stay safe in your account even if you lose your. Simply use the 12-word mnemonic to restore on another device.Mobile Oriented design w/ large color touch screen for smooth user experience. Newly Redesigned UIof dark mode for an elegant looking&convenient using. Also equipped with a security adapter for offline firmware update and charging, further keeps yourcoins&tokens' safety.