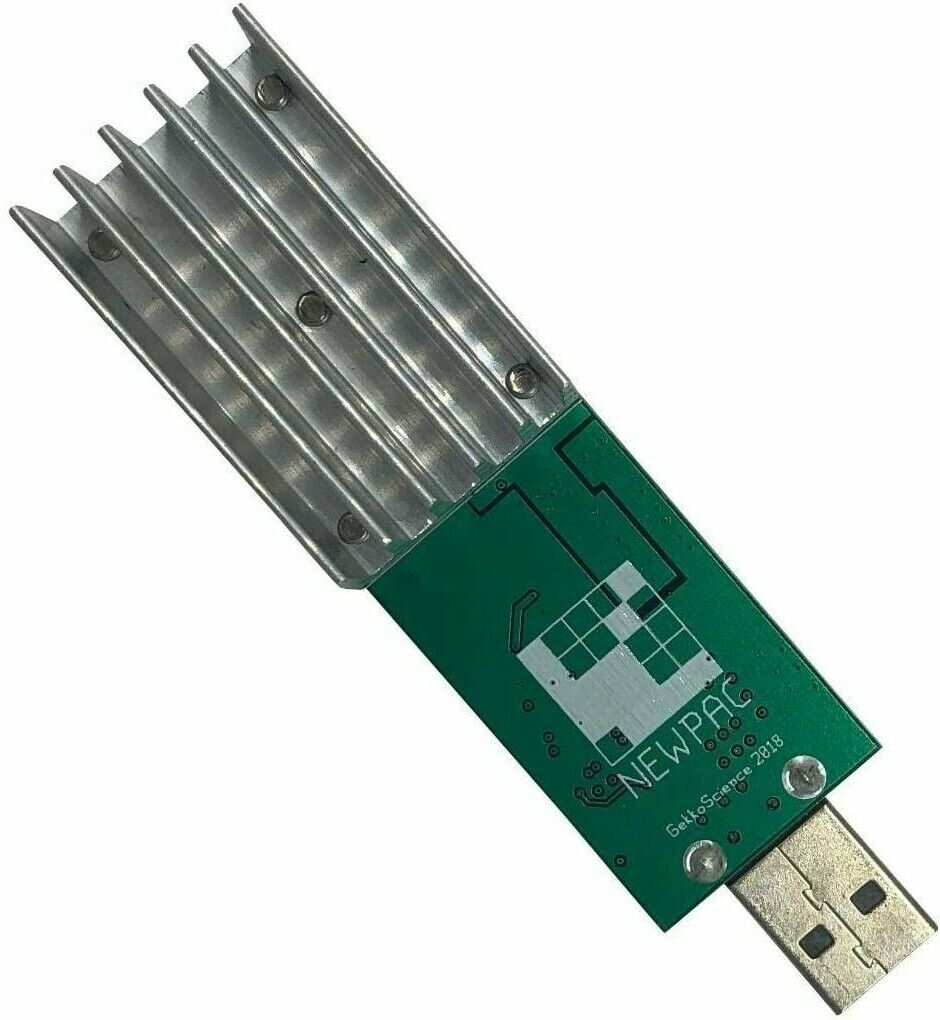 Price: 269.99 USD
Bitcoin Miner:
Gekkoscience Newpac sha256 Bitcoin Miner 130 Gh/s New Includes Manual. FREE SHIP




1 – GekkoScience NewPac 130Gh/s+ USB Bitcoin / SHA256 Stick Miner Most Efficient, Powerful USB Miner on Market. Includes Set-up Instructions. Free Shipping!
Stock hashing speed: 23 GH

High Speed: 90 GH+ (Higher speed requires usb port above spec)
2 x Bitmain BM1387 chips

Compatible with Windows, Mac and Linux OS using cgminer software. Includes user manual with instructions for easy setup.
Manufactured in the USA by legendary GekkoScience (Sidehack). Currently the most efficient USB miner ever manufactured. The NEWPAC Compac features 2 Bitmain BM1387 chips (this is the same chip as in the Bitmain S5). The stock clock setting is 100MHz for 23GH. The possible frequency values range from 100MHz to 600MHz, which generates speeds from 23GH to 130GH. Please make sure you provide extra cooling (table fan, usb fan, etc) when running the miner because these can get very hot (especially when running over 100 MHz frequency)
If you run the miners over about 100MHz, use a cooling fan.
Actively cooled sticks will use less amperage than passively cooled ones.
Non cooled sticks are subject to thermal runaway where heat will trigger increased amperage draw increasing heat in a cycle until the unit fails.
GekkoScience NEWPAC Dual BM1387 Stickminer
Features a pair of Bitmain BM1387 chips and a stock clock setting of 100MHz for 23GH
The units are capable of running at 90GH, and it's theoretically possible to overclock to 130GH but this will require a strong hub and and advanced custom cooling setup. All units are tested at 45GH before shipping and run for a full hour before being labeled and packaged.
These units function though a modified cgminer, which gives you command-line frequency control to adjust the hashrate.
The new GekkoScience CGMiner is able to detect and recover from the same kind of issues which would have caused a "ZOMBIE" condition on the old 2Pac units, meaning increased reliability and less attention to maintain long-term operation. The stick is dimensionally identical to the 2Pac, so any custom hardware designed for one will work for the other. And of course it's got BLINKY LIGHTS now showing that it is mining.
This entry level miner is good for anyone interested in tweaking and testing stuff, or for anyone wanting to "get into mining" without spending a lot of money or burning a lot of power. It's designed as a flexible yet affordable tool to learn a lot about bitcoin mining and its hardware.  While its small and doesn't offer the same hashing power as the big pod systems, the GekkoScience NEWPAC is the most power efficient Bitcoin miner on the market today.
GekkoScience NEWPAC Dual BM1387 Stickminer USB Specifications:
GekkoScience Compac NEWPAC is a USB miner containing 2 BM1387 core chips.

Stock HashRate of 23 GHs w/ no external fan necessary.

Highly adjustable clock speed allowing upwards of 45 GHs/second 

WARNING overclocking Voids Warranty AND REQUIRES external cooling.
Requires Official Custom CGMiner Build 4.11.1 available: Here
Official Bitcoin Forums – [link removed by eBay]
The stock settings on the miner run them at 23 GHs using 100Mhz Frequency Setting.
 All products are tested for non-DOA and confirmed working.  Absolutely NO refunds can be issued on this product.