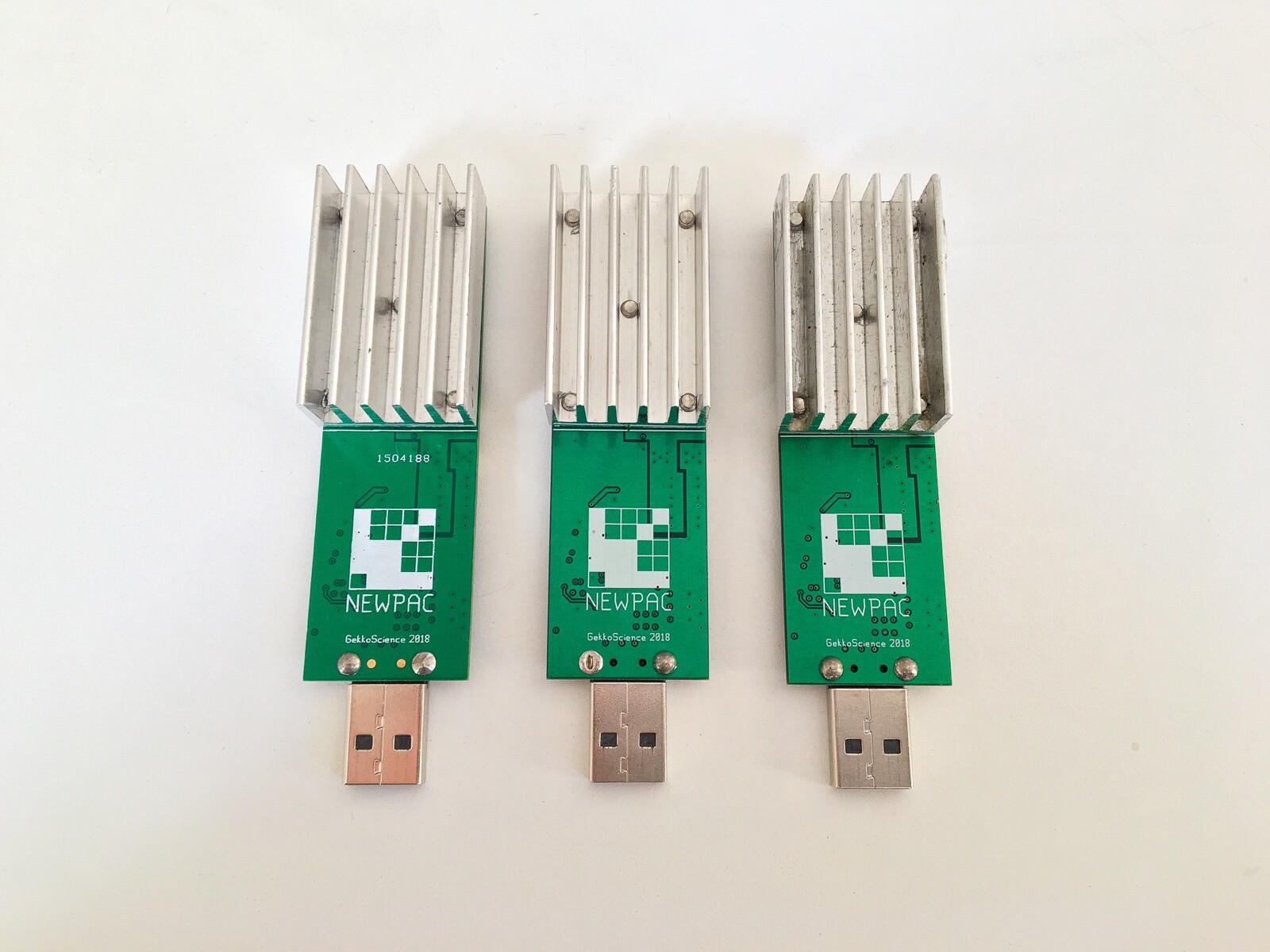 Price: 110.00 USD
Bitcoin Miner:
GekkoScience NewPac Bitcoin USB Miner Broken/Not Working
GekkoScience NewPac BM1387 Bitcoin USB Miner 130 GH/s
– When purchasing this listing you'll recieve 3x Broken/Not Working GekkoScience NewPac. I believe they can be fixed, but I haven't done any testings on these usbs. You can also just use them for decoration if you want.
Informations about the miner
Color: Green
Algorithm: SHA256
Power use: 5V/1000mA = 5 watts
Speed: 45 GH/s on avg (130 GH/s overclocked)
Condition: Not working/Broken (Can probably be fixed)
Official Support Thread for GekkoScience NewPac: https://bitcointalk.org/index.php?topic=5053833.0
The miner on the pictures is those you're buying (I didn't grab the photos from the internet I took them myself). 
Please be aware that you need a special mining software e.g cgminer or bfgminer. This can be installed on Windows, Linux and Raspberry Pi OS. I can also send you instructions for Raspberry Pi and Linux OS that I wrote myself – or you can visit my youtube channel youtube.com/danieljovar where I make video tutorials about the miners. 
Please be aware that this 3d printed fan extension I made shall be used with caution. The miners can be destroyed if they're being overheated so always monitor the miner when you're overclocking it. 
I've seen that it can be overclocked to 550 Mhz = 130 GH/s (which is pretty good for a usb miner like this). But I'll recommend running it stable with the fan extenion at around 350 Mhz.
This USB miner can mine all SHA256 algorithm based cryptocurrencies such as Bitcoin, Bitcoin SV, Bitcoin Cash Digibyte and more than 100 other coins.
Regarding the shipping – I'll be shipping the miners in antistatic plastic bags wrapped around with bubble plast or another kind of protective plastic so the items won't be damaged during the shipping.