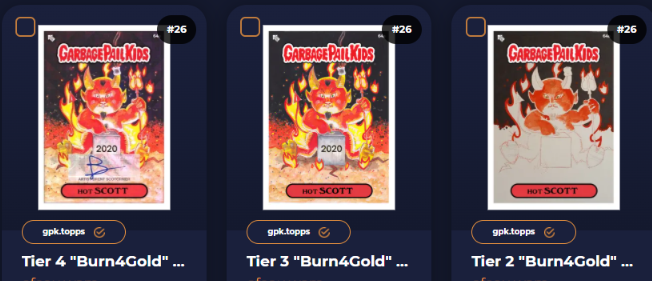 Price: 399.00 USD
NFT:
Garbage Pail Kids WAX NFT Burn4Gold Awards 3 Card Lot Matching Mint #26 RARE
This is a matching mint set of 3 of the 4 Tiers awarded after the Topps Burn4Gold Event held in December 2020 after the release of GPK OS2. The ultimate goal for the participants was to receive entries into a drawing for Gold 1of1 Variants of OS2 cards. The goal for Topps was to reduce the number of base cards which in turn would raise their value and increase Topps profits from secondary sales fees.
I unfortunately didn't win a gold card but i still qualified for all four tiers and received the award NFTs for meeting the requirements. Topps being Topps at the time, i never got my Tier 1 but was lucky enough to receive matching mints for the rarer tiers. And these are Very Rare GPK NFTs. The current estimated value of the 3 on the Wax NFT Market is $1060. Realistically you can get the 3 cheapest of each card for a total of under $500 but they wont be matching mint numbers.
The Mints are as follows:
Tier 2 #26 of 44
Tier 3 #26 of 47
Tier 4 #26 of 51
Here's the announcement from the event:
Topps announced a special burn event for their WAX Blockchain digital set, Garbage Pail Kids OS 2. According to the company, the event is set to begin Friday 12/4 at 12:00 PM EST, and will end on Wednesday 12/9 at 12:00 PM EST. Collectors who burn OS 2 base cards, and open OS 2 packs, will be eligible to enter to win a random OS 2 Gold card. Cards burned or packs opened can only be done during the contest to be eligible. Collectors can quality in four different tiers.