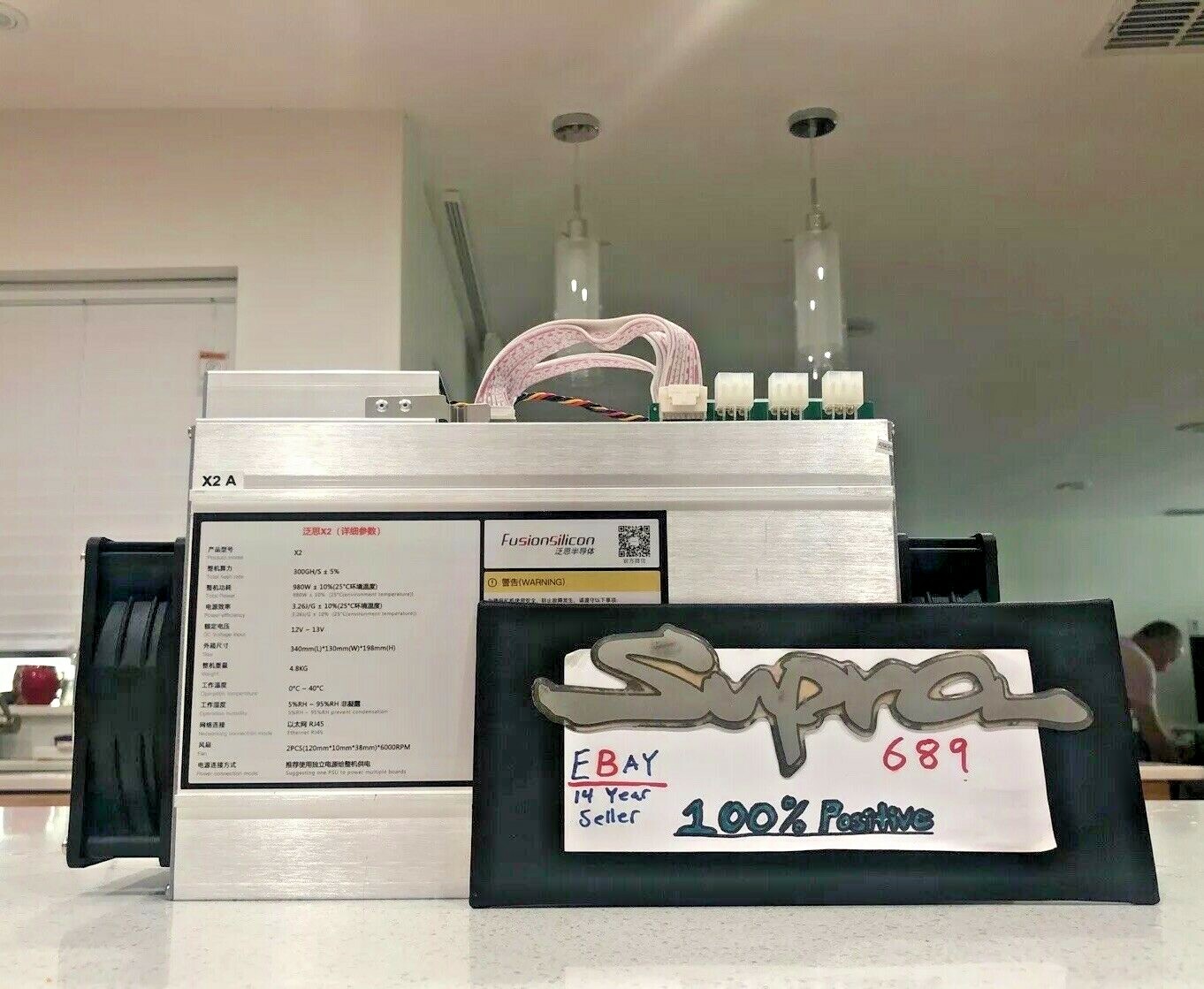 Price: 4,975.00 USD
Bitcoin Miner:
FusionSilicon X2 – Fusion Silicon ASIC Miner with BITMAIN APW3++ PSU – IN HAND




🔥🔥🔥UNIT IS OVERCLOCKED 400Gh/s grostle 2.2TH blake and 120 GH/s kayak AT 1000w at the wall🔥🔥🔥 
MANUALLY DONE NO DEV FEE AND UNIT IS STABLE****
Meaning earns 19-20$ a day AS OF TODAY 10/30/2021
400 GH/s, 980 W
6.45USD (~291 XVG)
-1.88USD
4.57USD
2200 GH/s, 980 W
10.95USD (~223 XVG)
-0.00USD
120 GH/s, 980 W
1.98USD (~0.000027 BTC)
WAS NEW IN BOX OPENED FOR BitGeSell RELEASE FusionSilicon X2s ASIC – mining 3 algorithms simultaneously – HAVE CUSTOM BUILT WEB GUI FIRMWARE AVAILABLE FOR THESE WILL INSTALL AT BUYERS REQUEST -Giving YOU full control of settings WITHOUT exporting and re importing config via "upgrade" tab just makes things a lot smoother when trying to tune 
NOTE! between nicehash mining rig rentals – mining dutch and zergpool combine 20-25$ a day as of 6-2-2020 – BUT myself and minds far greater then my own cant get settings to stick after 5 min the unit will "self correct" to factory settings – this has the version 4 control board its rumored that only version 3 boards can hold custom settings – I don't know why but IF ANYONE knows the reason for self adjusting via watchdog or a shadow config PLEASE MESSAGE ME its been one of the greatest frustrations of my life trying to resolve i will pay and or provide a free unit TO ANYONE that can show me what on gods green earth i missed and make the settings stick!
Stock 300GH-1.2TH-70GH – 980 wattEARNING 3.40$ a day with passive set forgetClocked 600GH-3TH-130GH – 1460watt earning OVER 6$ A DAY passive SET AND FORGETAGAIN REALLY DOES HASH THESE MARKS BUT READ ABOVE over 1000hours of development between 6 different people on this CANT GET SETTINGS TO STAY they do stay in kernel log there called and used but hash-rate will go to factory in 5 min currently resting device every 5 min would be only way to see stats stay elevated 🙄 I have actually set one like this with boot time over 24 hours it was better 24 hour income but insanity lol – but this is ridiculous that there is one missing link that's keeping this from greatness 
This listing is for ONE (1) NEW FusionSilicon X2 Multi-Algo ASIC Miner + ONE (1) NEW 1800W 220v Power Supply
This miner is awesome!  It mines three different algorithms at the same time!
* Myriad-Groestl @ 300 GH/s * Blake2s @ 1.2 TH/s* Keccak @ 75 GH/s* Or sell your hashrate to NiceHash – easy to setup! between the 3 algos (AS OF 3-7-2020) makes 3.40$ a day cost 1.78$ to run at 0.1KWMINING "weird" micro or low volume coins CAN MAKE AN ASTRONOMICALLY HIGHER NUMBER but i don't have time to chase micro coins but if you do this can be a beast 
#COINALGORITHMINCOMECOSTSPROFIT1NEVANevaCoinBlake (2s)1200 GH/s, 980 W10.24USD-1.88USD8.36USDFOR EXAMPLE2TAJTajCoinBlake (2s)1200 GH/s, 980 W9.72USD-1.88USD7.84USDOVER 10$ a DAY profit3MAXMaxcoinKeccak75 GH/s, 980 W1.86USD-already paidFREE1.86USDOnly Pay power once when doing your math4XVGVergeMyr-Groestl300 GH/s, 980 W1.80USD–simultaneouslyFREE1.80USD5MD Myr-GroestlMining DutchMyr-Groestl300 GH/s, 980 W1.77USD-1.88USD-0.11USD6HASHC Myr-GroestlHashCryptosMyr-Groestl300 GH/s, 980 W1.77USD-1.88USD-0.11USD7zpool Myr-GroestlzpoolMyr-Groestl300 GH/s, 980 W1.69USD-1.88USD-0.19USD8ZP Myr-GroestlZergpoolMyr-Groestl300 GH/s, 980 W1.69USD-1.88USD-0.19USD9XMYMyriadMyr-Groestl300 GH/s, 980 W1.54USD-1.88USD-0.34USD10NLP Myr-GroestlNLPOOLMyr-Groestl300 GH/s, 980 W1.36USD-1.88USD-0.52USD11MPH Myr-GroestlMining Pool HubMyr-Groestl300 GH/s, 980 W1.20USD-1.88USD-0.68USD12ZP KeccakZergpoolKeccak75 GH/s, 980 W0.49USD-1.88USD-1.40USD
13SMARTSmartCashKeccak75 GH/s, 980 W0.46USD-1.88USD-1.42USD14XVGVergeBlake (2s)1200 GH/s, 980 W0.46USD-1.88USD-1.42USD15NLP KeccakNLPOOLKeccak75 GH/s, 980 W0.46USD-1.88USD-1.42USD16ZP Blake (2s)ZergpoolBlake (2s) 17MD KeccakMining DutchKeccak75 GH/s, 980 W0.44USD-1.88USD-1.44USD18HASHC KeccakHashCryptosKeccak75 GH/s, 980 W0.44USD-1.88USD-1.44USD19NLP Blake (2s)NLPOOLBlake (2s)1200 GH/s, 980 W0.44USD-1.88USD-1.45USD20NH KeccakNiceHashKeccak75 GH/s, 980 W25$USD-1.88USD-1.45USD
Power Supply can be APW7 OR removed from sale saving buyer 100$ (PM me if no PSU needed).
The comments below will not apply to 99.9% of my customers, but they are added to protect me from any buyers abusing eBay policies:
*** NO this unit doesnt come with a return if market drops warranty 🙄🙄🙄 due to the price volatility and nature of cryptocurrencies, mining & mining equipment.  If BTC rallies to $70,000 and beyond, I will not back out of my sale to you.  Likewise, if the value of BTC drops, you are expected to keep your order this simple notion seems to be lost with some people who think I'm like walmart… or a fleamarket lolololol. ***
*** All units have been tested and are operating at 100% prior to shipment.  Any repair/warranty issues will need to be dealt with FusionSilicon directly ***
*** These notes are added to protect the seller from a buyer potentially swapping out equipment, trying to return equipment they damaged, or for abusing any eBay policies.  My 100% feedback speaks for itself – you will be very pleased with this miner and your purchase process ***
BUY WITH CONFIDENCE
PLEASE NOTE DUE TO PERSONAL AND PROFESSIONAL PROJECTS, I HAVE LITTLE TO ZERO TIME TO PROVIDE ANY SUPPORT/TECH AID FOR BUYERS – .
UNIT IS FLAWLESS 100000% 
I MAY BE SLOW TO FROZEN ON MY REPLY TIME FOR QUESTIONS. 
BUYER SUPPORT; IF NEEDED I ONLY HELP WHEN I HAVE THE TIME. 
THANKS IN ADVANCE FOR UNDERSTANDING.