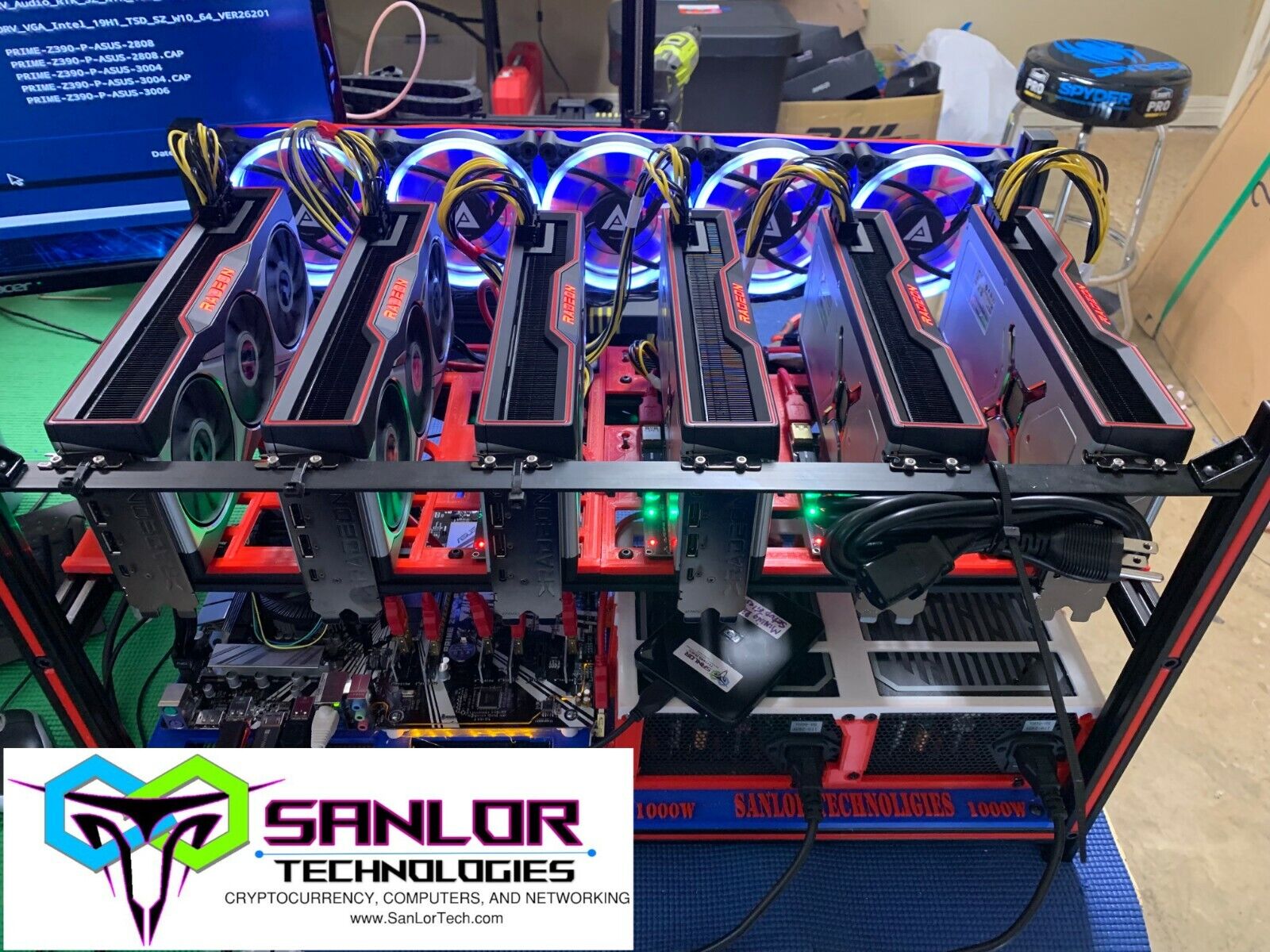 Price: 16,000.00 USD
Bitcoin Miner:
Item specifics
Condition:

New:

A brand-new, unused, unopened, undamaged item in its original packaging (where packaging is

Processing Speed (GH/s):

0

Modified Item:

No

Model:
6x Miner Kit
Compatible Currency:
Universal, Auroracoin, Bitcoin, Bitcoin Cash, Bitcoin Private, Bytecoin, Cardano, Dash, Decred, Devcoin, Dogecoin, Ethereum, Ethereum Classic, Litecoin, Ripple
Power Use (W):

0

Brand:

SanLor Technologies

Mining Hardware:
PSU, MotherBoard, SSD, Fans, CPU, Memory, Instructions / Manual, Customer Support, SanLor Technologies, Mining rig, Mining Rig Case, Mining Case, Crypto Mining Case, GPU Mining Case, GPU Mining Rig, Rig Case, Crypto Case, AMD Miner, Frame/Case
Hash Algorithm:
Dagger-Hashimoto (Ethereum), Scrypt, SHA-256
 Now Available to the Public!!!
SANLOR TECHNOLOGY'S
Crypto Mining – SANLOR EZ MINER
with 6 AMD RX 6800 XT GPUs 
MADE IN THE USA
Brand new Fully assembled Custom Built Crypto Mining Rig from one of the Top and Most Profitable Private Mining Rig Builders / Mining Farms in the US. 
This Is for a Actual BRAND NEW Mining Rig Equipped with 6  AMD RX6800xt GPUs  – Contact us if you want one with different GPUs
THESE ARE NOT RENTALS & THESE ARE NOT USED RIGS!!!
These rigs can mine pretty much any Cryptocurrency you want. Most other miners you can only mine one or two types, which does not make any sense to us at all. We personally Mine BTC, ETH, DOG, RVN, and many others with these rigs. 
These are not an Asian or Russian rip offs that you are seeing out there on other sites that compete with eBay. eBay keeps us honest with these items since they cost so much. We are a full licensed and registered, US Veteran Owned and Veteran Employed Business located in Hot Springs, Arkansas.
They have (2) standard 110v power plugs so you can plug it into any standard plug (We do not recommend putting more than one rig on the same plug or power strip), so no need for heavy 220v electrical outlets like some of the others, and these cost pennies on the dollar to run for electricity
The base rig comes with all black plates and covers We offer multiple color selections, patterns and schemes. If you want something specific just ask we will do it.
 MINING RIG SPECIFICATION:
OPERATING SYSTEM & MINING APLICATIONS

 

Windows 10 Pro
SMOS – SimpleMining Operating System- (Standard  on all our miners)
NHOS – Nicehash Operating System (Available Upon Request)
Any Windows base or Linix Base mining software can be used

———–
 
———–

CPU

 

Intel Processor
Intel Stock Cooling Fan

———–
 
———–

POWER SUPPLY

 

2x 1000w PSUs
110 Volt Compatible
High Power-Conversion Efficiency
Silent and High-performance Fans on each PSU
6x 8-Pin PCI Power Cable Connections for GPUs with GPU Power Risers

———–
 
———–

MOTHERBOARD

 

6x Graphics Card Capable
ATX Form Factor
Integrated Audio Ports, Video, and Gigabit LAN
Quad-Channel DDR4 Memory Capable
Temperature sensing and Voltage Monitoring

———–
 
———–

GRAPHICS CARDS (GPUS)

 

(6) AMD RX 6800 XT GPUS installed.
Contact us If you want a rig with other GPUs – www.sanlortech.com
Six (6) Premium PCIe Risers are included. One riser will be needed per each GPU

———–
 
———–

STORAGE / HARD DRIVE

 
———–
 
———–

MEMORY

 

8 GB DDR Ram (We have found that 8gb Ram is required for most newer GPUs)
Supports up to 32GB of Ram

———–
 
———–

MINING FRAME & CASE

 

Engineered and assembled by professionals in America
(5) Cooling fans
Beautiful black anodized Aluminum
Optimized GPU spacing to keep the cards cool
Stack-able design, 640mm wide, 640mm tall, 380mm deep, (25″ wide x 15″ tall x 15″ deep)
Supports up to 2x Power Supplies
Supports up to 6x Graphic Cards

———–
 
———–

EXTRAS THE COMPETITION FORGOT OR DOES NOT DO

 

Custom Mounting plates for Power supplies, Motherboard, and GPUs, Engineered to hold the rig together during shipping (No other supplier offers this)
Different color schemes available ( Most popular are The patriot which comes with Red White and Blue Plates and hardware mounting, and the Black Knight which come with black and Gold)
Personalized customer service from SANLOR Technologies
5x 120mm High Performance Cooling Fans w/ Grills
Brackets to stack multiple Rigs on-top of one another if you buy or have more than one.
Dual power supply cable to unify power supplies
on/off Power switch
All Photos are of previous Builds that we have sold or that we have in use in our massive mining farm here in Arkansas (Over 170 rigs as of 10/1/2021) .  Looking for a different mining rig?  Give us a call or shoot us an e-mail to discuss a new custom mining rig.  We also accept Crypto for Payments
SHIPPING: Standard Ground Shipping UPS within the Continental United States with insurance and tracking provided once shipped- This is a Custom-Built Mining Rig, we do not have them ready built and on hand. We put them together as they are ordered. Handling time is a ballpark.  We normally have it shipped well before eBay's shipping date depending on parts availability.
HANDLING: These rigs are built and shipped from the United States.
PAYMENTS: PayPal, also we do accept Crypto as well!!!, we have to, we are in the cryptocurrency business and with this so will you be.
RETURNS: Since this is for electronics, returns will be dealt with on a case by case basis. Most times we can replace components and get things going. You have to understand we have seen a lot of user errors that have caused issues and damage. It is why we dedicate ourselves to customer service and provide installation and set up instructions.
FEEDBACK: 5-Star feedback is our goal on every item sold! If you are satisfied with your purchase & experience, please take a moment to leave 5-Star feedback as it is greatly appreciated! If you have any issues with your purchase, please contact us directly using eBay's messaging service so that we may resolve your issue and earn your 5-Star Feedback!