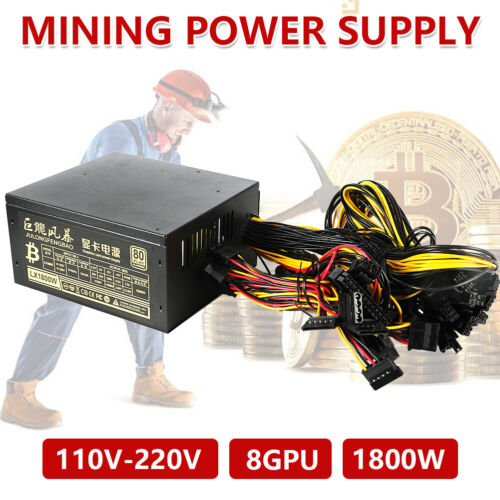 Price: 128.37 USD
Crypto Miner:
For 8 GPU ETH Rig Ethereum Miner New 1800W Modular Mining Power Supply PSU





100% Genuine

High Quality

Fast Shipping
STORE PAGES
Other
Agriculture Forestry Garden Ho
Spindle motor inverter
Packaging & Fillling machine
steam generator SPA
Grinding& Polishing
Sports & outdoor&LED
Food industry
Industrial products
Low price items
Other
Auto Spare Parts
Daily supply
1800W Modular Mining Power Supply PSU for 8 GPU ETH Rig Ethereum Miner New
Product Description
Introduction:
This 1800W Modular Mining Power Supply is assembled with high black shell paint. Its appearance is beautiful and smooth. It is not easy to be damaged and deformed. The fashion bird nest hole has wind fan with strong heat dissipation, high efficiency and energy saving, moisture and lightning protection. 
Application:
This product is suitable for graphics cards 1060, 1070, 370, 470, 570, 580, 380, 480, P104, P106 and so on. It is universal for most models. It fits 8pcs graphic cards.
Features:
1. No. 18 copper output line
2.  EMC anti-electromagnetic interference
3.  Support 8 high-end graphics cards(GPU is not included)
4.  Made up of high quality metal shell, not easy broken, very durable
5. Conversion rates up to 90%, energy efficien and environmentally friendly
6. The power supply Is equipped with a dust cover to adapt to various harsh environment
7. Smallest axis area, 14cm 80 PLUS gold certified PSU fan, best air circulation cooling system, longer service life
8. The fan speed is above 2300 RPM, so the noise is normal, Use a new large-capacity large magnetic ring material, the performance is very stable
Notes:
You need to provide power adapter yourself if the voltage is not suitable.
The cables and their color are random, which you need to prepare yourself if they are not compatible.
Specifications:
Material: Metal
Power: 1800W
Cooling Fan: 14x14cm(5.5x5.5in)
PFC: Active PFC
Support GPU: 8 GPU
Conversion Efficiency: Max. 90%
Input Voltage: 110-240V
Interfaces: 20+4P, 3IDE, 5SATA, 16×6+2P
Compatibility: Bitcoin/Litecoin Mining Machine
Current: 15A/8A
Frequency: 47/64Hz
Output Parameters: + 12V: 138A; + 3.3V: 20A; + 5V: 20A;  -12V: 0.8A
Gross Weight: 2.7kg
Package Size: 31x20x12cm(12.2×7.8×4.7in)
Package Content:
1 x Set of 1800W Mining Power Supply