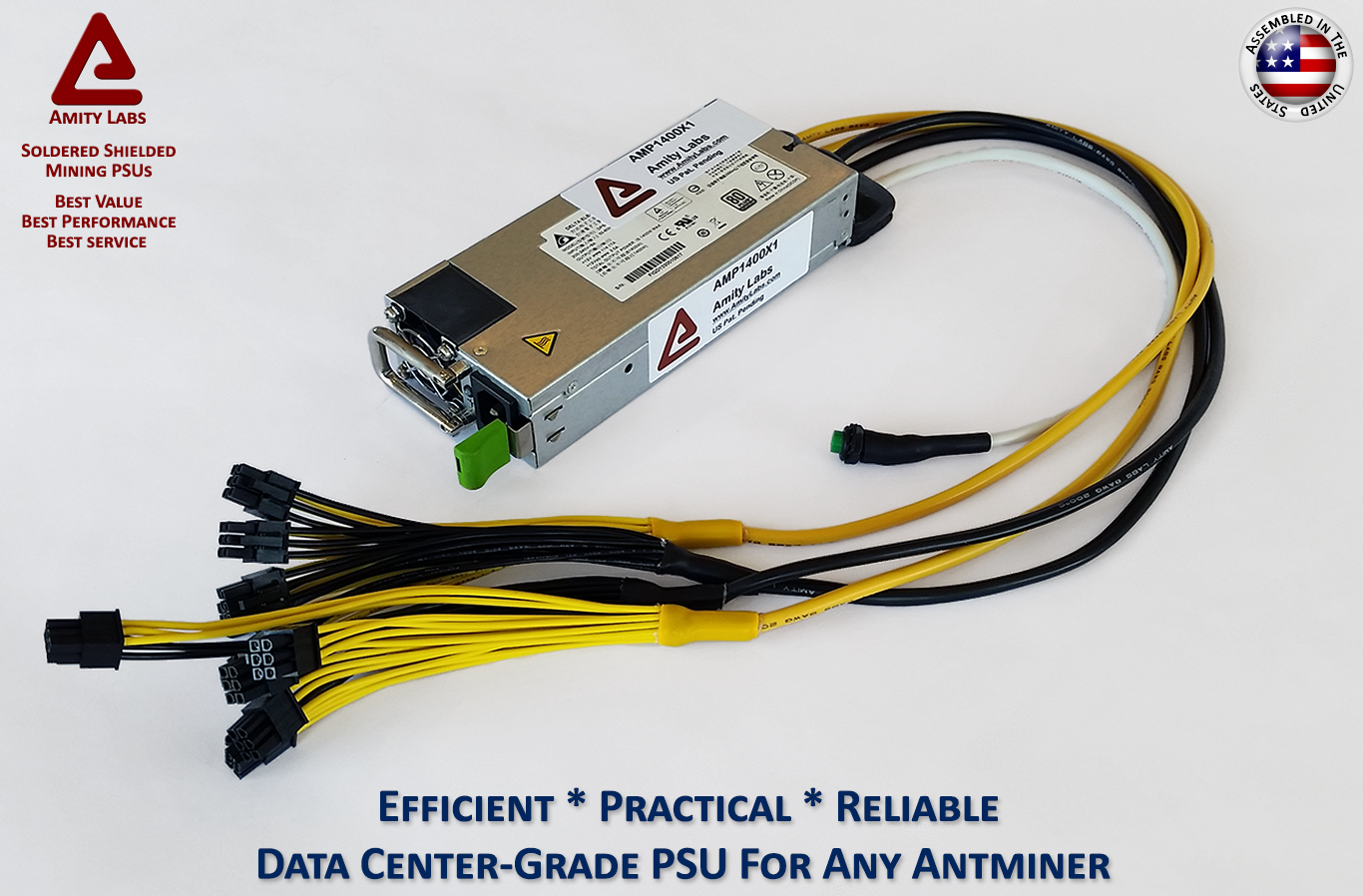 Price: 94.50 USD
Crypto Miner:
Cryptocurrency Mining Power Supply For Any Antminer S9 – APW3/APW7 Replacement




High Efficiency Data Center PSU for Any Antminer S9/T9/L3+ Avalon 8xx or Equivalent 

No more flimsy breakout boards! No more melted wiring! We are experienced
bitcoin
miners/engineers who offer you power systems we know to work well in actual use:
Reliability: Our wiring and PSU choices have proved themselves in 24/7/365 harsh condition operations at 100% duty cycle.

Ease of use: No screwing around with din terminals and wire strippers. Just plug it and turn it on!
Quality: We work with a leading cable manufacturer to custom-design and make our wiring.

Free shipping – satisfaction guaranteed – 60 day warranty. And now, onward with the technical specifications:
Power Supply Specifications:
200-277V (this PSU will not run on 110V)
The only UL-listed large-power PSU certified to run on 3-phase 277V circuits

Max power output: 1400 Watts at DC bus / 1550 Watts "at wall" (true rated output at 100% duty cycle)

High efficiency (94% platinum, genuine efficiency certified by the 80Plus program)
Compact 1U form factor
Universal C13 "computer/monitor" power socket
Universal Amity Labs 10-connector PCI-e harness

This PSU will run other miners (e.g. 2xL3, R4, S5…) or GPU rigs within the max power output above 

Note: You'll see some vendors labeling similar "green" or "yellow" label PSUs as 94% Platinum Efficiency. They are NOT! and the sellers probably just don't know the Ecova rating of the product they are selling.
Universal Amity Labs 10-connector PCI-e harness:
Ten (10x) 16 AWG braided copper 6-pin PCI-E Molex connectors, each rated to 240 Watt / 20 Amps at 80 degrees C
24 in (~60 cm) DC bus implemented with 200C silicone heavy gauge wiring, rated to 1200 Watts / 100 amps

Wiring soldered to the power terminals (minimizes electrical and thermal resistance)

All energized contacts fully insulated and protected against wear, tear, and heat with high-strength dielectric epoxy shield

Technical Notes: There is a reason why you'll not see a single breakout board or PC ATX clone in our data centers!
Modern bitcoin miners require ~100 amps of current at 100% duty cycle

The PCB of most
breakout boards does not have enough copper planes to carry such currents. The result is overheating, delamination, and
equipment-destroying burnout.
The backplane connector of many
breakout boards is a cheap low-current part instead of the 50-Amp-per-blade OEM version (check the part # rating on the Amphenol/Digikey parts site)
Breakout

boards have all their hot points exposed. Drop a coin, a
screwdriver…etc – and watch what happens.

A good server PSU will outlast the
breakout board and pretty much anything else in normal use. An
interchangeable connector is moot.
In contrast, our
design optimizes heat management, hardiness, and insulation:

We solder the conductors to the power terminals, providing
for absolutely minimal resistance and optimal heat conduction/dissipation. The solid contact also protects against accidental disconnects, contact sparks, and interface oxidation.
We insulate every hot point with hard electrical epoxy and heavy-duty shrink wrap to prevent accidental shorts and increase hardiness.

We use proper wiring gauge and insulation
We use quality PCI-e connectors with proper crimping
Our PSUs ready to plug and go. You will not waste your time screwing around with DIN terminals or spade connectors.

Ordering:
Free shipping only to the "lower 48" contiguous US states. Non-US buyers – please contact us before purchase for shipping quote.
Volume buyer? Please contact us – we can customize your order to your exact data center needs.
Because
this is a custom modification of an existing device, the original
FCC/UL/OHSA…etc PSU certifications are not applicable, and no safety
guarantee is made.
Questions? Ask us!
Thank you!