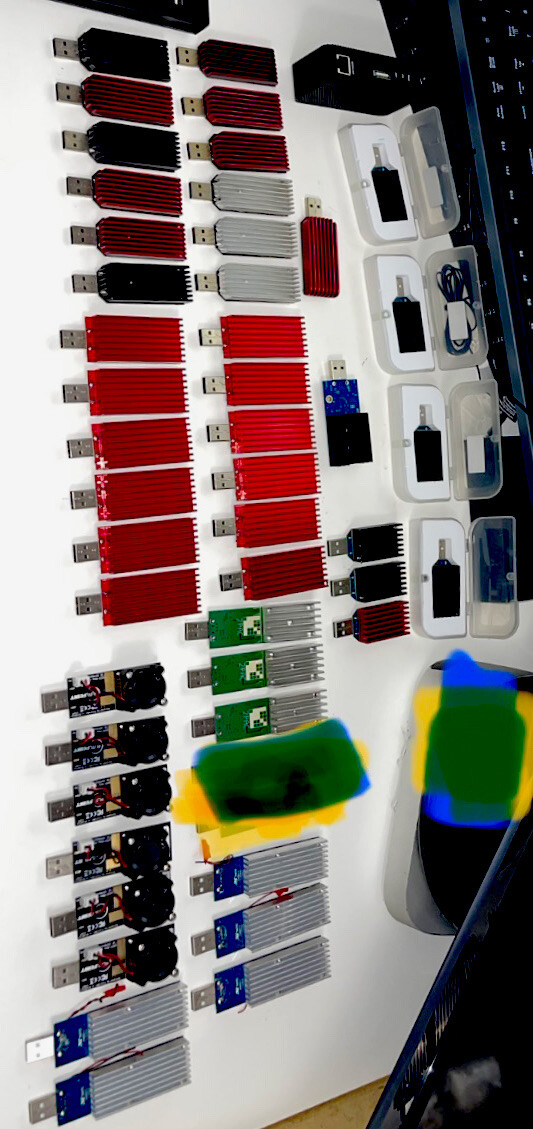 Price: 9,000.00 USD
Bitcoin Miner:
Crypto USB Miner Lot For Sale, Hexfury,Red Fury, Blue Fury, TTBIT ,Futurebit,




Hello,
👇🏼👇🏼👇🏼All the items included in sale. 👇🏼👇🏼👇🏼
👉🏼8-HexFury mixed colors (red,black,silver) – SHA-256 – in 2014, most powerful Bitcoin miner of the world.
👉🏼6 – Futurebit Moonlander 2 – Script miner – Right side of photo
👉🏼5- Bitmain Antminer v1.2 – All Black SHA-256
top of photo "I have a few in boxes".
👉🏼3 -Gekko Science 2pac – SHA-256
Top right of photo
👉🏼1 – Bitmain R1-LTC script miner through Wi-Fi-Router
👉🏼4 – TTBIT BTC – SHA-256 – 15GH's V2 -right side of photo.
👉🏼8- Bitfury BF1 ~Redfury~USB BITCOIN Block Erupter BTC Asic Miner Sha-256 CRYPTO BTC.
Middle of photo
👉🏼I will also include some other items I have laying around. A few usb hubs and fans w/custom 3D printed legs. Used especially over/for the HexFury because of the 6 asic chips on each one creating enough power/heat to cook a marshmallow otherwise. :)👈🏼
Please do All research and due diligence in regards to getting started and the actual software & operation of these units, it's up to the new owners to figure out.
Units worked flawlessly when last used and checked before posting them for sale.
I'm selling one of the biggest collections of usb cryptocurrency miners on eBay. Unfortunately my loss is your gain. These are one of the original BTC miners which have become rare and highly collectible. They're all working and useable to mine any sha-256 algorithm crypto currency till this day. They are also great to setup as standalone units in lotto mode with a Raspberry and/or computer and leaving them running/mining in hopes of solving a Bitcoin block and receive a 6.5 BTC payout in return. If your the lucky type of person. This is what some call playing the lotto! 🤤
These are all usb stick miners, which are either
SHA-256 and/or Script miners. 1 of them is a LTC script miner Router.
These usb miners are Collectible RARE items , can be used for pool and/or lotto mining. Various hash rates, depending on brand/model.
All work flawlessly…
I'm willing to accept certain crypto as payment.
Feel free to contact me with any questions
👇🏼👇🏼👇🏼👇🏼👇🏼
802
404
2253
Thank you