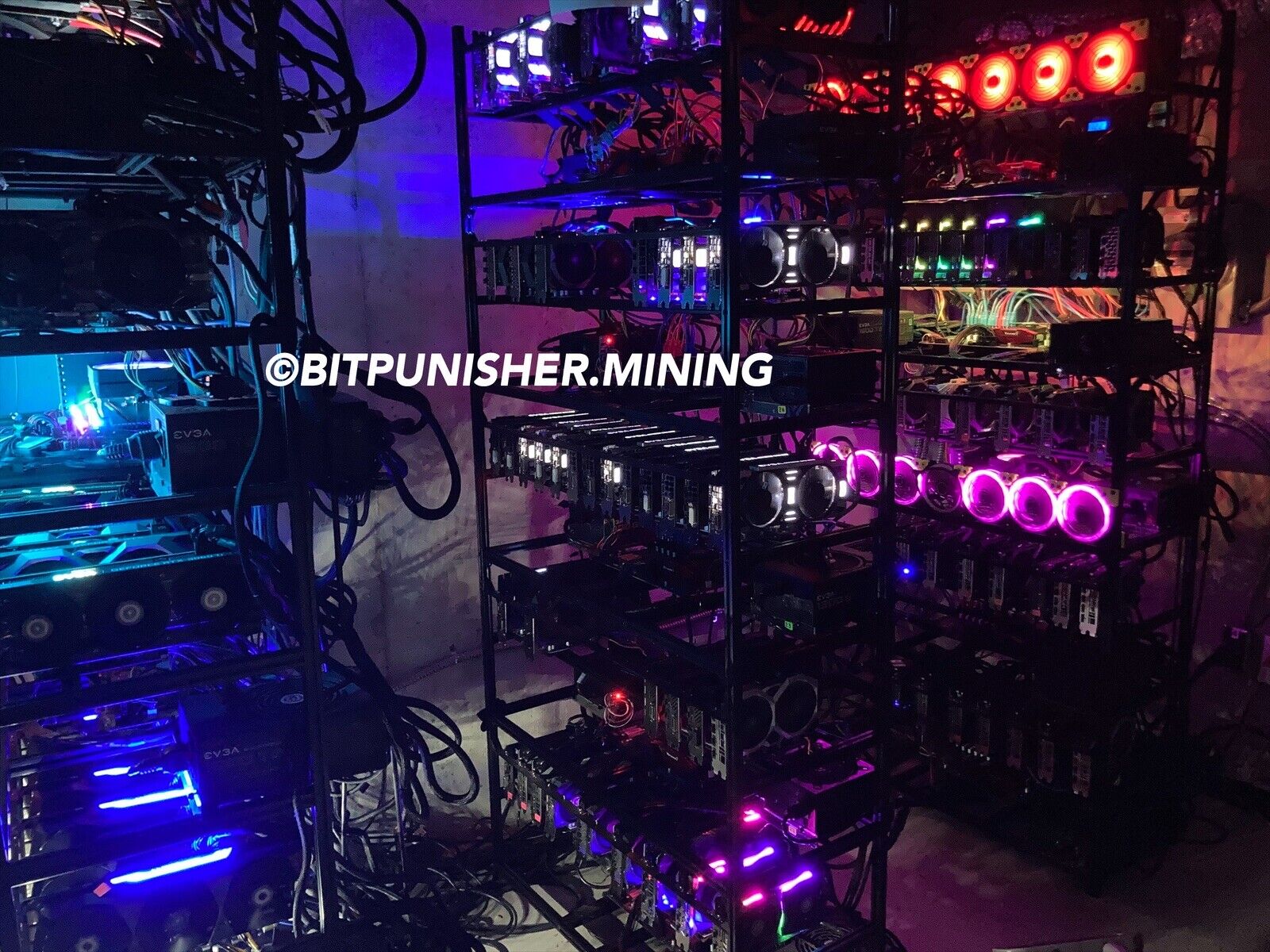 Price: 349,995.00 USD
Bitcoin Miner:
Crypto Currency Mining Rig 80x RTX 3090 GPU Miner ETH BTC BITPUNISHER
The pictured mining rig/farm is only an example of my work.  I build these to order for each customer. I am also available to act as your consultant.
ULTRA-PREMIUM ENHANCED FEATURES SUMMARY: (Please Review Full Details Below)
-Includes Best Cards on the Market for Mining, Nvidia GeForce RTX 3090's 
-Includes Upgraded Monitor with monitoring station, 2-post server rack, 48 port Ethernet Switch, 16 port KVM switch, 240v Power Distribution Units, shelves, lockable drawers, 1050 CFM fans with flexible ducting, all cabling, setup assistance, consulting, site planning, ongoing maintenance and support.

-Includes extra Power Supplies
-Extra Memory & Storage
-Faster Processor
-Includes Power Meters
-Includes Surge Protectors
-Includes Assembled Fan Kit w/ Fans
-Windows 10 Pro 64 Licensed, Activated & Installed
-FREE BONUS EXTRA-Surprise Hardware Wallet (Valued at $200) while supplies last.
This listing is for a Built-To-Order PREMIUM 80 GPU, RTX 3090 mining farm, comprised of 10 frames of 8 GPUs per frame, for a total of 80 GPUs.  It includes a two post server rack management console with remote access, shelving, storage drawer, ethernet switch, keyboard, mouse and video switch, power distribution units, RGB lighting, temperature monitoring, and in-line duct cooling fans with flexible ducts.  Includes design planning and consultation with your local electrician, premium, full-service setup assistance, with on-site setup available, and ongoing cryptocurrency consulting service and free shipping.  This is a built-to-order product and service, using only the finest new components available.
Please review my other listings for details on the base 8-GPU mining rig, which is the building block on which this is created.  I can also customize a smaller or larger mining rig farm for your needs, please inquire.
Immediately start getting paid in Bitcoin through mining Alt Coins with this Professional GPU RIG by BIT PUNISHER.  Enjoy the freedom to mine any cryptocurrency you wish.  Grow your wealth as your mining rig earns revenue even while you sleep.  Remotely monitor your mining rig status and earnings from your smart phone, tablet or web browser.

This is an 80 (Eighty) GPU RIG, focused on mining efficiency to maximize profitability.  This rig consumes less electric power and produces a higher hash rate than other GPU rigs.  Efficiency of high hash rate and low power consumption is the key to making more money mining cryptocurrency.   A higher profit is achieved by saving electric costs during mining.  This rig has been tuned to maximize your profit.
Unique mining software always seeks out the highest paying crypto-currencies to mine at any given moment, based on market conditions and market prices.  The miner software switches automatically to the most profitable mining algorithm activity, earning you the most Bitcoin or Alt coins such as Ethereum, Zcash, Monero or thousands of other crypto-currencies.  Solo mining and pooled or group mining are both supported.
Your mining rig is built solid with care in the USA to be a fully functional yet beautiful show piece worthy of display.  Each mining rig is thoroughly tested for at least 24 hours and shipped to you ready to go to work.  All you have to do is take it out of the box, plug it in and connect to the internet.  Your mining rig will begin earning you revenue right away.  Get paid out in Bitcoin or Alt coins of your choice.  Though the actual electric power consumption is much less, we suggest that you dedicate a 15-amp circuit to support the power requirements of your new mining rig.

Do you want to see how much you can make? Check out the online Crypto Compare Calculator to compare our Ethereum (ETH),  Zcash (ZEC),  Monero (XMR) and Dash (DASH) hash rates (below). Simply type in the Hashing Power, Power Consumption, and Cost Per KW/h and the calculator will provide you with your estimated return!

If you want to start smaller and add additional GPUs later, we offer a lower cost option that allows you to get started for a fraction of the cost, and build up your rig by adding GPUs in the future.  Please see our other listings.

Our rigs have standard features which are not even offered by our competitors.  These include a watchdog system to automatically restart your mining rig after a power outage or after a problem.  This keeps your system producing for you even when you are unable to directly monitor it.  Also includes a watt meter so you can measure the true and real power consumption and cost.  Features an oversized power and reset button with LEDs and hard drive indicator light.  Standard features also include a computer monitor, keyboard and mouse!  These extra features allow you to use this mining rig in a partial or non-dedicated way, as a regular, super-fast business or gaming computer; leave the miner software working in the background or turn it on and off as you wish.
This is a complete package and comes with our premium support to get you started.  If you need help, you can reach us by telephone or email for support.  With your permission we also have the ability to access your mining rigs remotely to help you stay running smooth and profitable.
Covered by original equipment manufacturers warranty!

Original GPU boxes are shipped with all mining rigs.
Specifications:
Hash Rates for 80 GPU Version: (Higher hash rates than listed below are available with some changes, please inquire.)
·        Hash rate and mined coins may be directly converted into Bitcoin (BTC).
·        9.5+ GH/s (9500+ MH/s) DaggerHashimoto Ethash nominal for mining Ethereum (ETH) and other coins.
·        Many other hashing algorithms and alt coins are supported!
·        This GPU rig will support new algorithms and coins that will come into existence in the future!
Operating System
·        OEM Licensed Windows 10 Pro 64 bit operating system comes installed to provide superior hashing results along with a beginner friendly user experience.
·        Windows boot and repair media provided on 8 GB USB thumb drive for your convenience.
·        Configured for auto-login, and automatically starts the mining software.
Mining & Applications Software Included
·        T-Rex and NiceHash Miner pre-installed with your wallet address  – Allows you to mine ALT Coins and/or also convert them instantly to BITCOIN.  Get paid in Bitcoin BTC.
·        MSI AfterBurner pre-installed – For overclocking management.
·        TeamViewer installed allowing you to monitor your rig and mining activity using your Android or Apple smart phone, table or any computer with web browser.
CPU
Powered by Intel LGA 1151 54W Desktop Processor
·        Base frame module is powered by 8 multiple open fan design Nvidia GeForce RTX 3080 10 GB GPUs with attractive back plate.
·        Each card is individually overclocked, power adjusted for maximum efficiency, and optimized for mining any GPU based currency
·        2 large or 3 medium cooling fans on each GPU for cooler operating temperatures and improved reliability
·        Premium 4 solid capacitor PCIe Risers installed on each GPU
·        100-240VAC / 50-60HZ
·        4000W Max Power per frame (Quadruple Power Supply design using up to 1000 watts each PSU.)  Typical continuous power draw is 235 watts per GPU.
·        Silent and High-performance Fans on each PSU, Modular Cable Design
·        High Power-Conversion Efficiency
Storage
·        500 GB Western Digital SSD Solid State M.2 Drive
Memory
·        16 GB (2 x 8 GB DDR4)
Rig Frame
·        Engineered and assembled by professionals in the USA
·        Beautiful black anodized aluminum rig frame of the highest quality available
·        100% Aluminum, Powder-Coated Finish (no flammable wood or plexiglass!)
·        Stack-able design, approximate dimensions 86 cm wide, 38 cm tall, 36.5 cm deep, (or 34″ wide x 15″ tall x 14.5″ deep)
·        Optimized GPU spacing to keep cards cool
·        Includes brackets, mounting hardware and grills for optional front fan kit.  Optional fans available separately, please inquire.
Warranty
All components are covered by original equipment manufacturer's warranties

We offer advanced replacement service for 90 days
Included Extras the competition forgot
·        Color Monitor – Mining rig can also be monitored remotely without a monitor.
·        Full size keyboard
·        Mouse
·        Full management console with ethernet switch, KVM switch, Power Distribution Units (PDUs), shelving, lockable drawer, and all cabling, setup, maintenance & support.
Special Features
·        Advanced Electric Power Usage Watt Meter with Large LCD Display with memory function and power off data holding. Save Energy Costs.
·        USB Hardware Watch-Dog Circuit for Mining Rig Unattended Operation with Automatic Crash Recover. Reduces revenue loss caused by rare crash or interruption, Increases revenue!
·        Optimized for mining and getting paid out in BITCOIN BTC
·        Configured during final testing with your Wallet Address – Start earning even before delivery!
·        Usable in non-dedicated mode as a complete super-fast business or gaming computer.
Please feel free to contact me with any questions.  I am a legitimate long term eBay seller, with shooting star level nearly 100% positive feedback rating of over 12000.  I am also a member of the eBay Developers program. You may wish to review my eBay feedback profile and also review my LinkedIn profile for "Gene Chandler III" for more information about me.

(Follow us on social media @bitpunisher.mining on Instagram, Facebook & LinkedIn)
Disclaimers:
1) Any Mining Rig upgrades or modifications not made in conjunction with our staff and specifically using our instructions will result in discontinuation of our support and void your warranty resulting in no return or refund.
2) Hash rates may differ based on internet connection and operating temperature. Hash rates provided are an average based on our internal testing with a high-speed internet connection and temperature range between 21-24 degrees Celsius (70-75 degrees Fahrenheit).
3) Upon payment receipt our Customer Service team may contact you to request proof of ID and wallet address. Order shipments may be delayed until this information is received.
4) Customs/duties and other shipping related charges are not included for international orders outside of the US.
5) International customers may be required to purchase a separate power supply cable or adapter in order to connect to a power source.
6) This is not an offer to sell Bitcoin; it is a specialized crypto-currency mining computer which will generate Bitcoin for you daily through the mining process.
7) I do not sell Bitcoin, and I am not not a Bitcoin exchange.