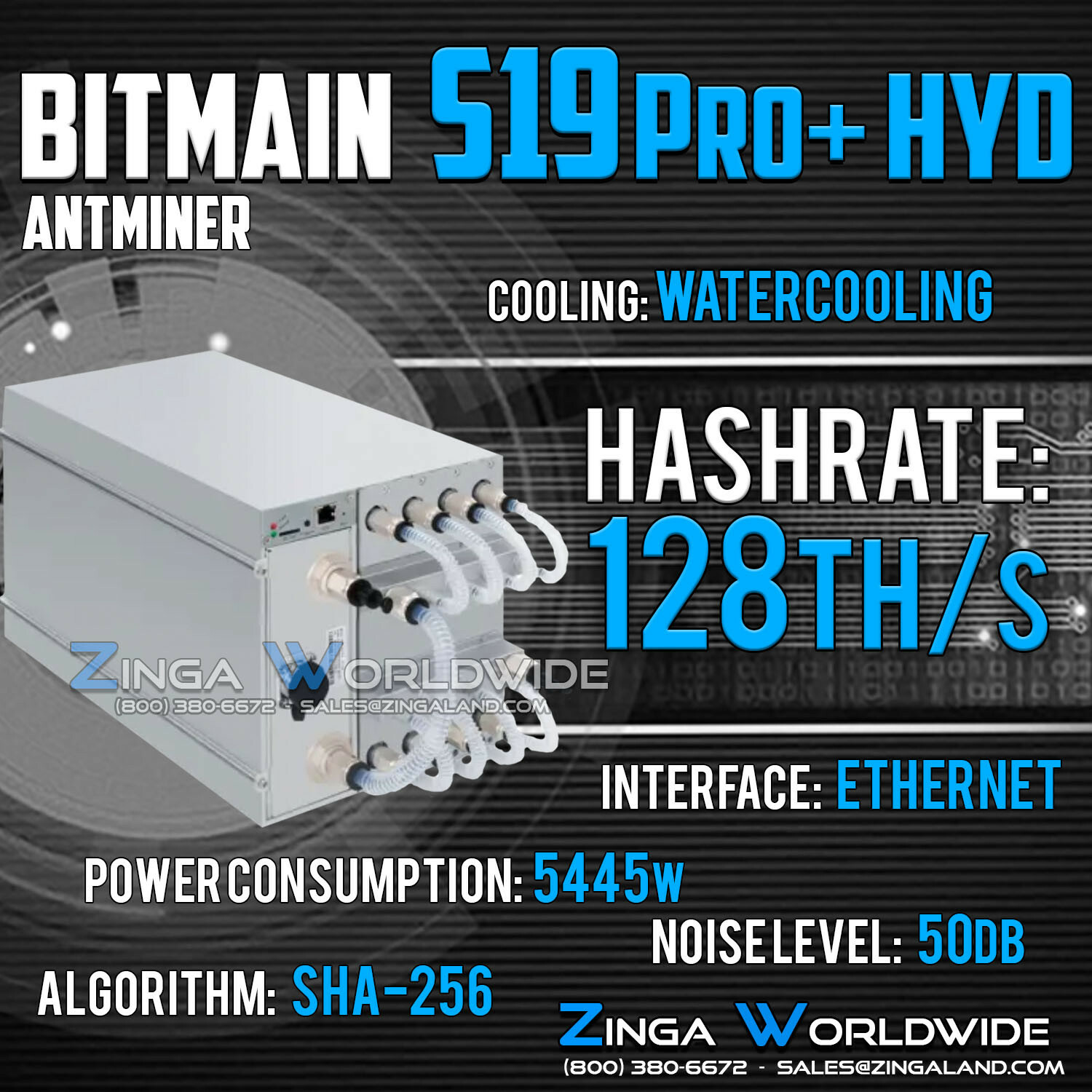 Price: 24,900.00 USD
Bitcoin Miner:
Bitmain S19 Pro+ Hyd 198Th Bitcoin Miner Watercooling Pre Order We Finance




We are eBay's largest supplier of ASIC miners.
S19 Pro+ Hyd 198ThMiner (PSU Included)
Please go to the zingacoin.com/acquiringourminers page to ensure you purchase actual equipment and not pirated miners.
We understand this is a significant investment. Goldshell, Innosilicon, and Bitmain tend to over promise and under deliver their release dates. We will provide an automatic full refund if Bitmain delays the S19 X more than 100 days past your payment date. 
NOTE: your purchase is non-refundable for the first 90 days.
We offer 100% FINANCING ($10k to $10m) for personal and business loans by Taycor Financial.
Visit our ZingaCoin.com/financing page to learn more about 100% Financing and Crypto-Backed Financing by SALT Lending.

Zinga Worldwide LLC's home base is in Minnesota, USA. We understand you might have concerns and encourage you to visit our ZingaCoin site for our MN and Shenzhen attorney's contact information to confirm that we are a  registered legal business in MN.
-ASIC miners are one of the most scammed products online. We are here to provide a safe place to purchase new and used ASIC rigs.

Please watch our video: It shows the miner/s purchased get tested at our 3rd party Zinga Worldwide LLC testing facility and shipping warehouse in Shenzhen.
Q- How do we know you're not a scam?
A- We recommends watching the below video.
A1- It will show how we test our miners before we ship and a look inside our 3rd party Zinga Worldwide LLC warehouse in Shenzhen.
Q- How do I know I am receiving quality ASIC miners?
A- Each miner purchased will receive a test video confirming it ships at or above the advertised hash rate.
Q- How do you get used miners?
A- Our corporate mining farms purchase thousands of miners each year, 
constantly upgrading rigs. Usually, they sell the used miners to smaller mining farms. If we tried to buy a few at a time, they would not even answer the phone. Maxwell Law worked out an exclusive deal to leave a 30% deposit on 'X' amount of rigs that allows us to pull miners as needed (a significant seven-figure investment for us).
Q- How do you get new miners?
A- Similar to our used miner program. Corporate mining farms order thousands of rigs per time. Maxwell Law once again signed us an exclusive contract to add our requested amount of miners to their order; they charge us a premium and a 60% deposit. Unfortunately, we can only order 'X' amount of miners with our budget, and we must sell all rigs we prepaid before we can place our next order. 
Q- How do you know you're not getting scammed?
A- We work with Maxwell Adversary LLC law firm located in Shenzhen
that found us four sizeable corporate mining farms to provide us with a
safe and secure way to make payments and guarantee we get actual 
tested equipment.
Q- You prices seem a bit high?
A- Our mining farms price changes based on demand, and they determine the cost. We add a small but fair markup, and we sell the miners based on our cost, not the price of other legit sellers.
Unboxing the new A11 video