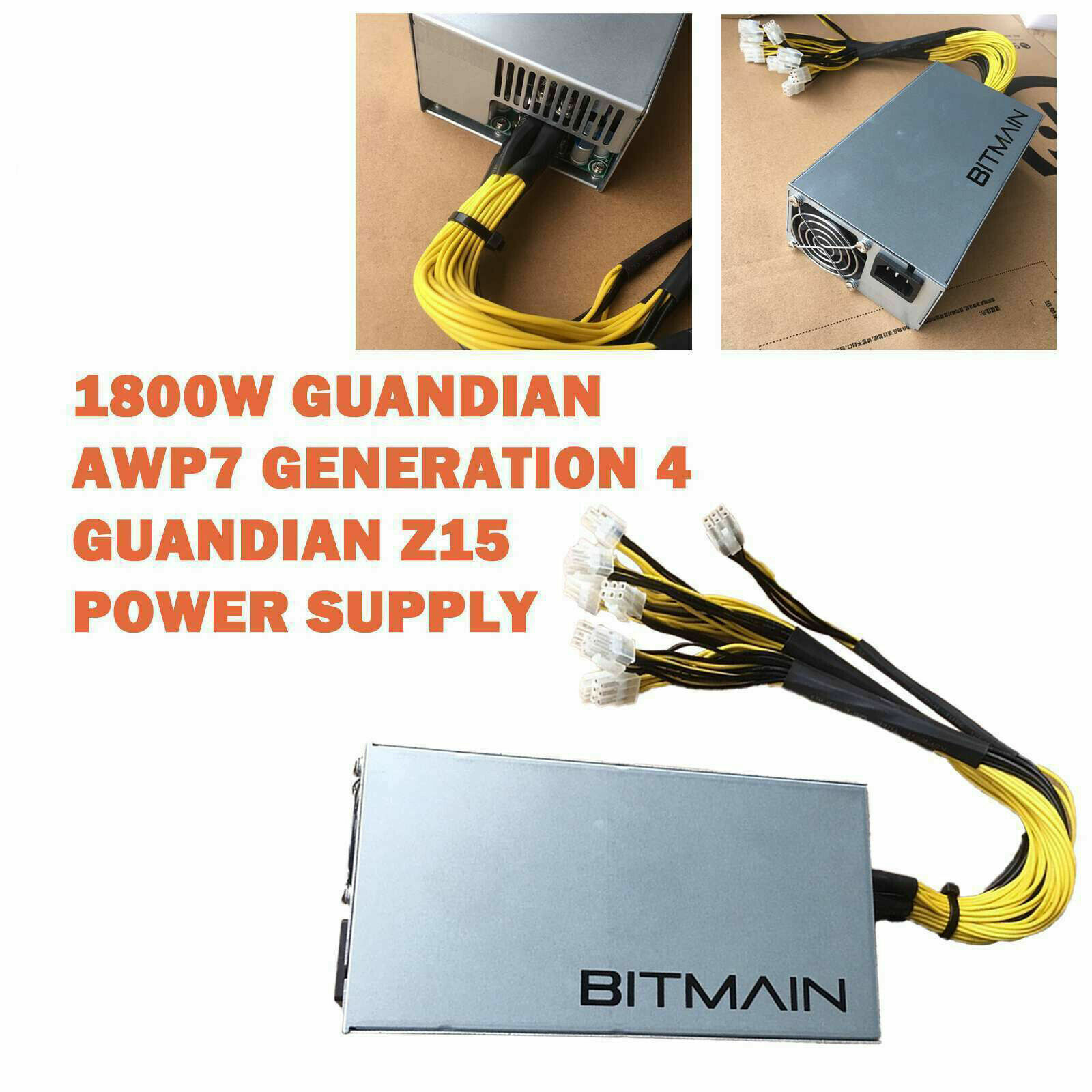 Price: 165.89 USD
Bitcoin Miner:
Bitmain APW7 1800W 6-Pin Connect Bitcoin Miner For Antminer D3 S9 S7 L3 AntMiner
 1) The air flow direction runs from the AC input to the DC output, which is the same configuration as most miners. This proves beneficial for those with large-scale mining operations where heat management is a major consideration.
2) The PCB uses a conformal coating to prevent damage from high voltage spark discharges on MOS pins, or near high-pressure solder joints when external conductive particles or dust enter the PSU.
3) The APW7 can work stably in environments with a 50°C ambient temperature. If temperatures exceed 50°C, the PSU should be underclocked (refer to Max Load vs. Ambient Temperature Graph in the user guide for details). Considering the high temperature in mining operations, all internal components are selected with a standard of 105°C, so the APW7 has a much longer lifespan than a general use PSU under similar high temperatures.
4) One APW7 can power up one S9i, one L3++, one D3, one V9, one X3, one E3 or one Z9 mini. This APW7 has 5 pairs of 6 pin PCI-E connectors (i.e. 10 connectors)
Benefits:
⭐ The APW7 mining power supply has a rectangular parallelepiped shape, a metal shell, and the BITMAIN logo on the front.
⭐ The power supply's fundamental characteristics (APW7 -12-1800-A3) are displayed on the side, and it offers 100-264V ultra-wide voltage.
⭐ As with other mining equipment, the cooling fan and power cord interface are located at the front of the power supply, allowing for easy heat dissipation throughout the mine.
⭐ The power supply has four channels, two of which contain four PCI-E six-hole interfaces each, for a total of ten interfaces, just enough for antminer L3++ and other ASIC mining devices.
⭐ APW7 can guarantee the stability of the cryptocurrency mining rig operation and can match the common load demand within 12V 1800W, making it ideal for situations requiring high power such as bitcoin mining.
Features:
✅ DC Voltage: 12.0V
✅ Rated Current (Input 220V): 150A
✅ Rated Power (input 220V): 1800W
✅ Rated Current (Input 110V): 83.3A
✅ Rated Power (input 110V): 1000W
✅ Start-Up Time: Less than 2 seconds
✅ Power of retention time: more than 10ms
✅ Voltage Range:100-264V AC
✅ Frequency Range: 47-63 hz
✅ Power factor: greater than 0.99 (full load)
✅ Leakage Current: Less than 1.5mA
PayPal is the preferred method for payment. If you are paying by bank transfer, please use your exact eBay username as the reference to ensure that your order will get processed smoothly.
* Your order will be shipped within 1 business days ( Excluding Weekends and Public Holidays)after your payment clear.
* We only ship out within US. 
* Item will be delivered within 1-6 business days in US.We ship to Paypal confirmed address ONLY. Please make sure your address in PayPal is matched with your shipping address before you pay.
* We do not offer in store pick up and return service.
Besides, Zone 9 is out of our delivery range.
We will keep you updating via email messages regarding the status of orders.Please make sure your ebay registered email available and you adjust the spam limitation to allow messages from us, or check your ebay message box.
Order information will be updated when:
After you win the item OR place a new order.
After you pay item successfully.
After your item dispachted.
We are professional ebay seller.
If you need more this item ,please contact us,we can deal the discount price for you .
or if you need to find anythings ,we will help you to find it and give you our best price.
If you we are not satisfied with the product or service ,please contact me and don't give us negative or natural feedback,We must give you a satisfactory solution.