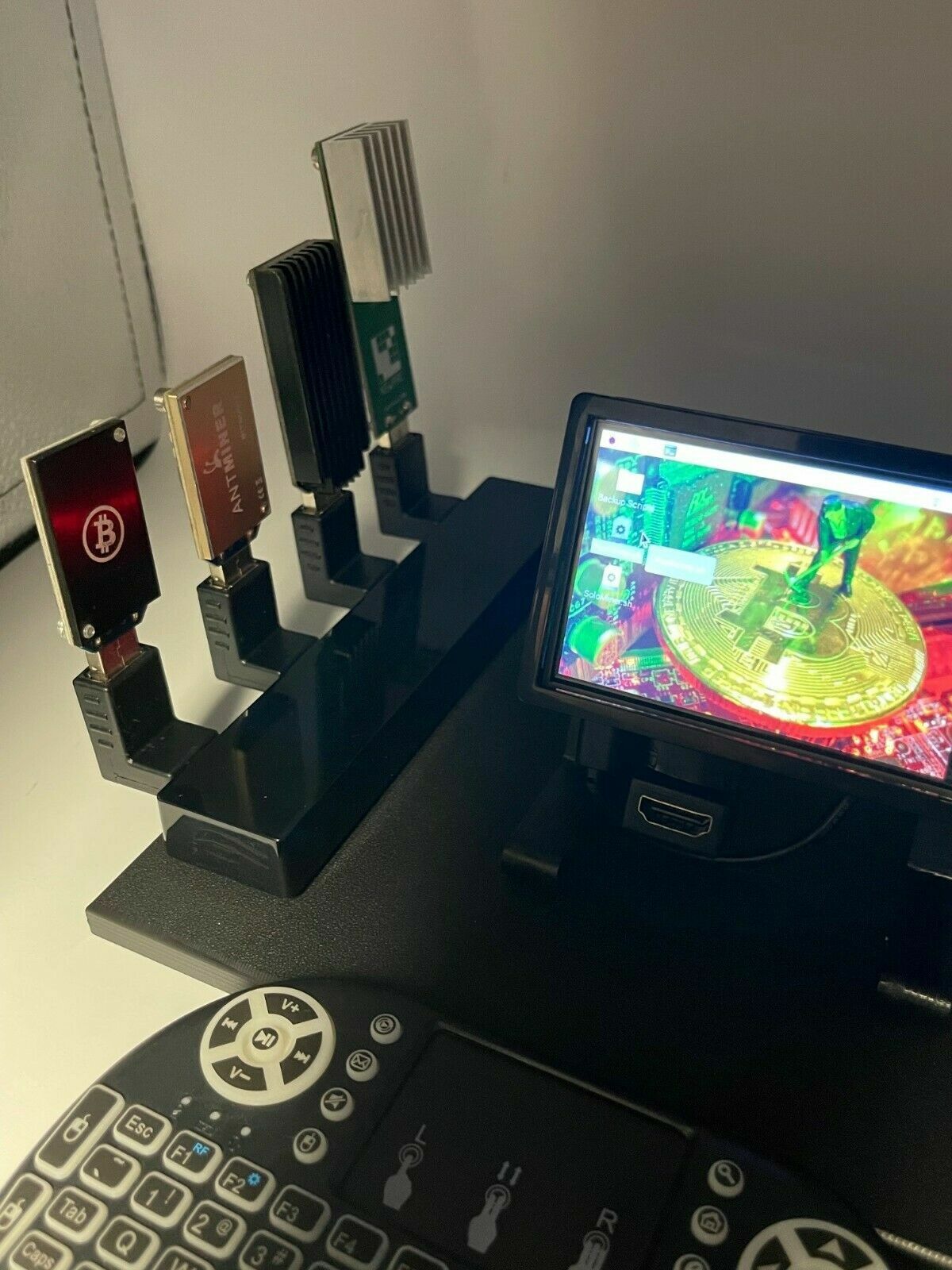 Price: 659.00 USD
Bitcoin Miner:
Bitcoin Lottery Miner. SOLO / LOTTERY Mining Platform CLM-100 BUNDLE
CoinHouse Mining is pleased to offer the CLM-100 Series Bitcoin Lottery / SOLO Miner.  This 100% self-contained unit, is ready to go out of the box and could earn you over $240,000. (Based on 2/20/2022 Bitcoin Price)
THIS LISTING IS FOR A BUNDLE WHICH WILL INCLUDE OUR CUSTOM STAND, NEW SOFTWARE VERSION AND 7-PORT POWERED HUB FOR EXPANSION.    YOU CAN PLUG ANY USB MINER INTO YOUR UNIT INCREASING POWER!!!      WE NOW SUPPOT ANTMINER, GEKKO SCIENCE, BIT FURRY, HEX FURRY, BUTTERFLY LABS, AND DOZENS OF OTHER MINERS.  ALL AT ONCE, ON THE SAME MINER, AT THE SAME TIME!!!
NOTE:  ONE (1) and ONLY (1) ONE USB MINER IS INCLUDED.   YOU WILL RECEIVE THE ANTMINER BLOCK ERUPTER USB MINING CHIP.  THE PICTURE IS AN EXAMPLE OF HOW YOU COULD POSSIBLY EXPAND THE UNIT BY BUYING DIFFERENT MINERS.
We've created the ONLY self-contained solo miner on the market.   You do not need a monitor, keyboard or mouse.  All you need is basic WiFi and power.   
You can even run this off the grid with a hotspot and solar panel.   Take it to work, mine from your car during your commute to work, take it on vacation, or just leave it sitting on your desk.   We've totally eliminated the complexity of Bitcoin solo / Lottery Mining.
Our entry model, the CLM-100 is based on a the ASIC Miner Block Erupter, you rig can be up and running in minutes.   

From that point forward, 24 hours a day, 7 days a week you are lottery mining and may someday hit the Bitcoin Lottery.
What  Is Solo Mining? 
Solo mining is different from traditional pool mining.   In a pool, the entire pool splits a reward, so your miner is always making money for you, but you are always sharing that with the other members of the pool.   With solo mining, you do not get paid unless your miner finds and solves a block.  if you successfully mine a block then Bitcoin will be sent directly to your BTC wallet.  
If your miner does not find a block then you will not receive anything. That's why this listing is a SOLO / LOTTERY mining – there is no guarantee that your miner will find a block.
However, with your miner working around the clock for you, you stand a much better chance than someone who buys a mining contract for an hour, day week or month.    You are always mining.  24 x 7!!
For those of you who enjoy math…   Each day 1,800 BTC are mined in blocks of 6.25BTC.   98% are mined by mining pools, 2% by solo miners.    That means that roughly 6 times a day a solo miner hits the Bitcoin lottery.    That means that 6 times a day, your miner may be the lucky winner!
Who Are We?
We are CoinHouse Mining, LLC.   We are a wholly owned subsidiary of CoinHouse Capital, LLC  an established player in the Cryto Currency market with over $23,000,000 in managed assets and growing daily.     We are also part of the All Keys Family of companies (www.allkeysfamily).    
What you're getting from us is a REAL company, an ESTABLISHED company, a company with strong leadership that continues to lead in innovation.  We encourage all potential buyers of this product or any of our companies to do full diligence.   We have competitors who claim to be companies, trademarked and in reality they are not and just here to make a quick buck.   We are solid.
Once a member of the CoinHouse Mining family, your mining rig is covered under 24×7 technical support.  Handled by our skilled technicians in Florida, Malta, India and Pakistan.  All English speaking and experts in our product line and mining.
You are also entitled to FREE software upgrades for the life of your product.   We release updates quarterly that include product enhancements.  Our Q3 release now supports ALL SHA256 currency mining.  Our Q4 release supports DOGECOIN mining.
Finally, your hardware is warrantied for a full year.   In the event your unit fails, we cross ship a new unit to you.  How often do you hear something like that on eBay?    Never.   Because eBay is just one our sales outlet, part of being a REAL COMPANY.
Join over 900 other users as we welcome you to the CoinHouse Family.
What's In The Box?
You Will Receive:
                         Coin House Capital CLM-100 Series Miner with integrated 3.5″ Digital Display.
                         Bitmain Block Eruptor USB Miner (Tuned to 330 MH/s)
                         2.5W Power Supply
                         Custom 8 x 8 Miner Stand with 7-Port USB Hub
                         Bluetooth Wireless Keyboard / Mouse (Not necessary but added for your ease of use)
                         Owners Manual & Quick Setup Guide
The Legal Stuff…
Due to the nature of crypto currencies no returns are accepted.  With your purchase you acknowledge that this item is not returnable and hereby waive all eBay and PayPal buyer protection. 
We will ONLY ship to validated PayPal addresses and delivery will be SIGNATURE REQUIRED.     
Absolutely NO INTERNATIONAL ORDERS unless payment is made in Crypto.
All pictures, screen images, listing text and information here within are the sole property of Coinhouse Capital, LLC and can not be used or reproduced without our legal consent.   Any infringement of our intellectual property will be aggressively legally enforced.