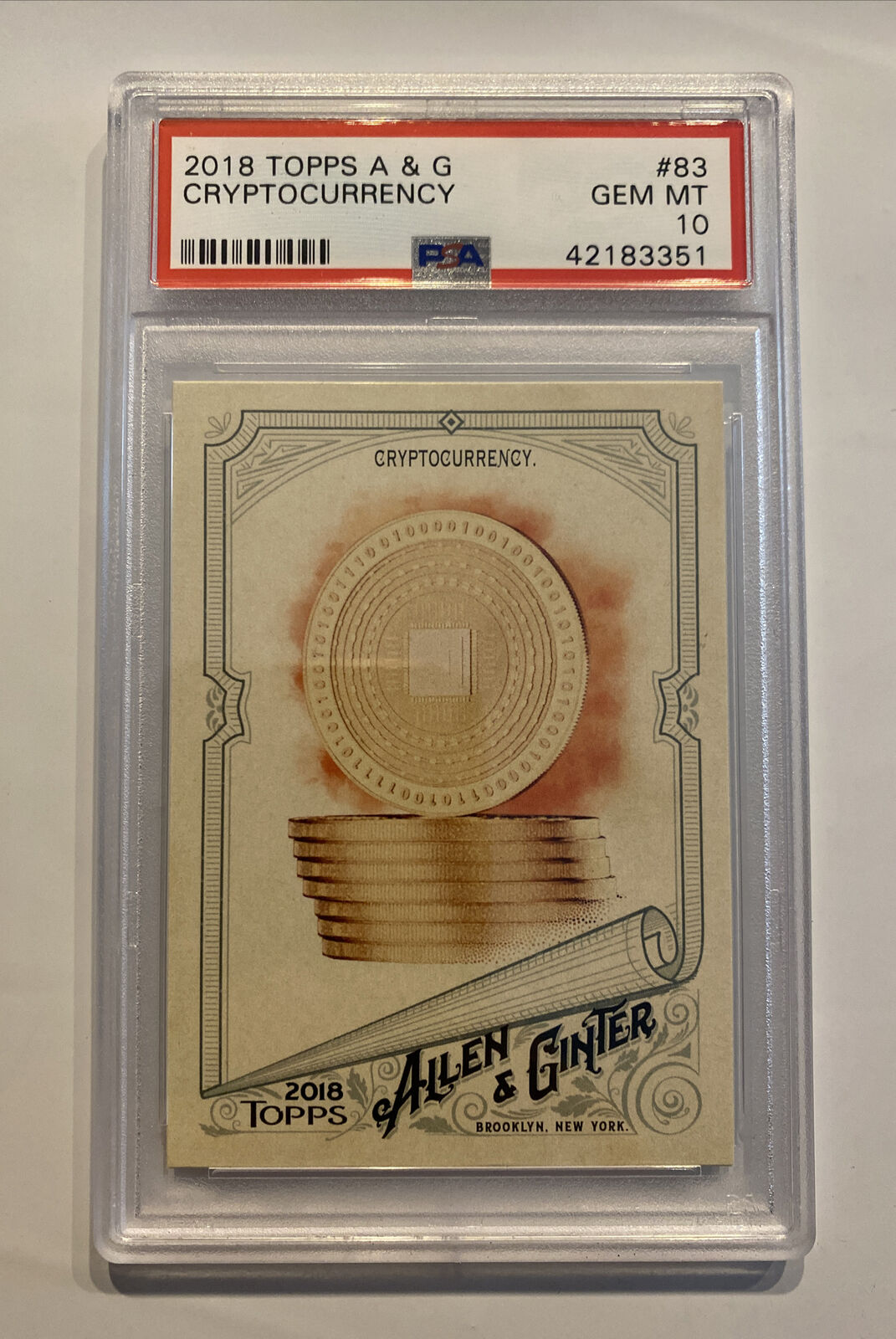 Price: 2,396.00 USD
Bitcoin Miner:
Bitcoin Ethereum Litecoin Ripple PSA 10 MINT CryptoCurrency BTC Rookie Card Doge
Signature confirmation required at delivery – at our expense.
When – if – (whenever) – Bitcoin goes to a million dollars per coin, millions of new millionaires will be created, overnight.
Those new millionaires will want to celebrate their Bitcoin investment with the perfect gem mint PSA Encapsulated 10-grade card.
Only 4 remain. Message me prior to purchase if you'd like to choose your PSA serial number. All are new cases PSA Label.
Ultra collectible.
Ultra Rare.
Extremely limited number of these cards at perfect 10s.
Great investment!
Imagine what these perfectly graded Allen and Ginters will be worth at BITCOIN ONE MILLION!?
Don't believe us? Ask Max Keiser! Paul Tudor Jones, and the list goes on! The more whales that join the BTC revolution, the higher Bitcoin goes – and the more rare this gem becomes.
As these secular Billionaires and their entourage accumulate more and more crypto assets – watch for the single biggest rush into related collectibles of our lifetimes.
Graded a perfect PSA 10 Gem 💎 Minty Mint!
Perfect gift for the crypto miner or enthusiast in your life!
Perfect desk ornament!
Great conversation starter!
Comes encapsulated and never touched! Recent grading submission to PSA – authentic and extremely low population of these in perfect 10s!
Ultra Collectible!
And guess what? Unlike US Dollars, they can't print more of these 2018s in perfect condition! Translation = protect yourself against inflation caused by limitless money printing!!!
No monetary value, not a sovereign government currency
Not a crypto currency
No digital tag comes with purchase
All high-end cards video and audio recorded during the packaging process for the ultimate in buyer protection and confidence!
and you can Buy with Confidence!
Veteran owned USA small business
Same day shipping store wide
Free 30 day returns
My family and I are so grateful for your business! Please visit our sister eBay store as well at RED WHITE TRUE!
All the best!
Sarah