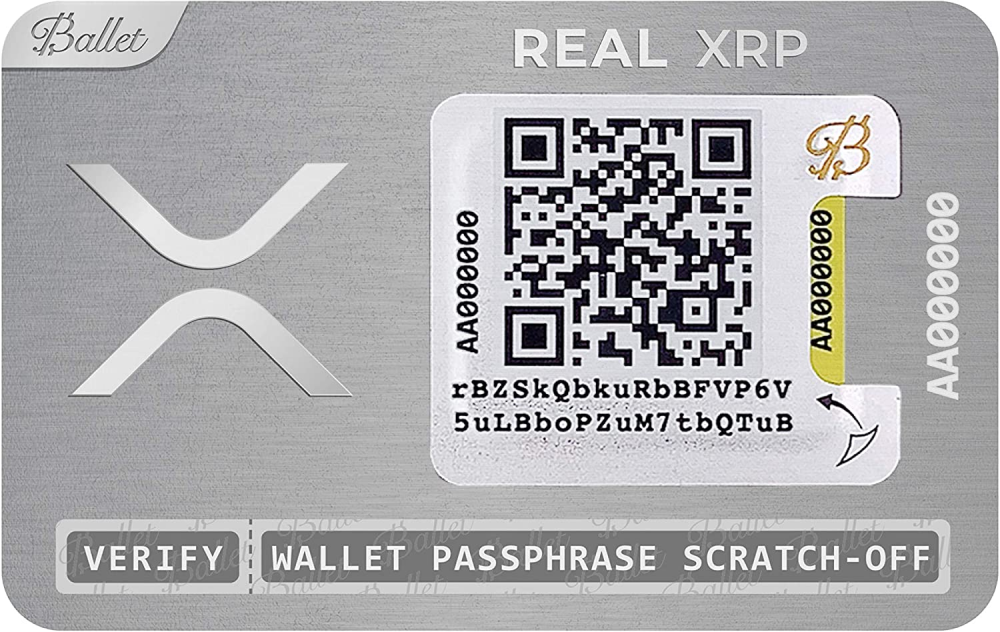 Price: 49.19 USD
Crypto Miner:
Ballet Real XRP – Physical Cryptocurrency Wallet with Multicurrency
---
Product Details
Product Dimensions: 3.37 x 0.05 x 2.13 inches
Item Weight: 1.36 ounces
Manufacturer: Ballet
Brand: Ballet
Material: Stainless Steel
Color: XRP
Item Dimensions LxWxH: 3.37 x 0.05 x 2.13 inches
Item Weight: 38.6 Grams
Ballet wallets are our solution to make cryptocurrency easy for everyone. They offer a simple and elegant user experience that allows new crypto users to receive, store, send, buy and sell cryptocurrency. Our innovative wallets are the world's easiest-to-use cryptocurrency wallets: they require no setup and are ready to use right out of the box. There are no accounts, no setup, no passwords, no electronics, and funds are stored 100% offline in cold storage with no risk of electronic hacking. No Setup: Our wallets come ready to use out of the box. No Maintenance: Our wallets are physical wallets made from stainless steel, which, unlike electronic hardware wallets, doesn't need to be maintained or electronically updated. Giftable: Our wallets are designed to be a physical representation of your cryptocurrency and once the wallet is loaded with cryptocurrency, it becomes a physical bearer asset, like gold or cash. This makes them ideal for gifting and introducing new people to crypto. Buy crypto: You can use a credit or debit card to conveniently buy cryptocurrency and automatically deposit it to your Ballet wallet. User-Controlled Private Keys: Our wallets were made with decentralization in mind, so only the end users have control of their private keys and their digital assets. Our wallets are made in accordance with tried-and-tested encryption and decryption algorithms to ensure the security of your funds, and our software is open source. The Ballet Crypto app is a companion app to your Ballet wallet. When using the app, your assets are kept completely offline. The app does not store the credentials of your wallet and cannot access your private keys. Your assets are kept offline and no one can hack or otherwise gain access to your funds through the app. The app allows you to easily manage your assets in real-time. We believe in user privacy, and do not require any account signups and there are no monthly fees.