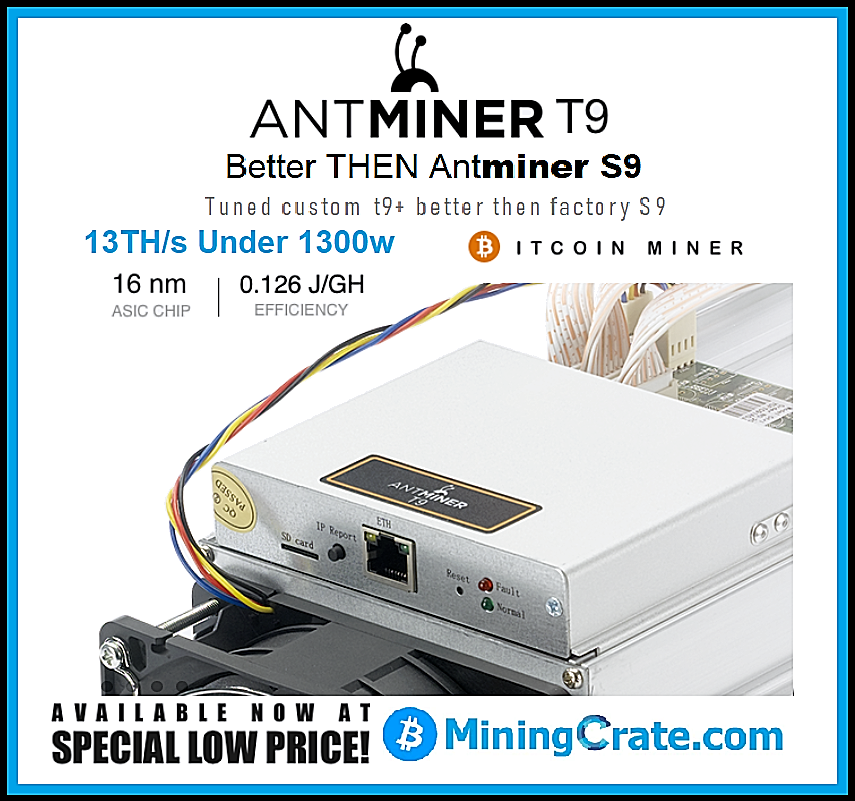 Price: 595.00 USD
Bitcoin Miner:
Antminer T9+ Bitcoin ASIC Miner 🔥STABLE 14TH/s🔥 1300w – Uses S9 chipset – USA
Tuned Per Chip with real Asicboost 🔥 13TH/s Reliably 🔥 same as all S9 chipset is used in t9 run on 9 chains instead of 3 and at a higher voltage for longterm use and stability
All units are tested fully – then run for 24 hours 🕙 
as per chip tune takes up to 12 hours alone and then 12 hours past for stability 
unit can come tuned to:
14TH at 1380w
The BM1387 ASIC Chip
The world's first bitcoin mining ASIC based on the 16nm process node.
Bitmain's BM1387 chip is built using TSMC's 16nm FinFET technology and is the world's most efficient bitcoin mining chip in the consumer market.
Each Antminer T9+ employs 162 such chips to deliver a stability and efficiency combination not found in any other Bitcoin miner in existence.
A Compact Time-tested Design
World's most powerful bitcoin miner, yet smaller than many portable boom-boxes.
The Antminer T9+ follows the same form factor as that of the hugely popular Antminer S9 and is also the same size.
Whether in a home or in a mining farm with several other T9+ miners, Antminer T9+'s small footprint makes it comfortable in all locations.
Controlled by a Dual ARM® Cortex®-A9 Microprocessor
T9+'s control board uses a Xilinx® Zynq®-7010 FPGA with a Dual ARM® Cortex®-A9 microprocessor.
Bitmain's engineering team understood the importance of every detail while working to make a highly stable yet efficient Bitcoin miner. The Antminer T9+'s control board employs the fast Dual ARM® Cortex®-A9 microprocessor with CoreSight™ and supports Gigabit Ethernet to ensure that mined blocks are submitted instantly.
Engineered to Remain Powerful Yet Cool
A high-grade aluminium case, customized heat-sinks and two computer-controlled fans to keep it cool.
The T9+ utilizes a combination of conduction and convection cooling to make the world's most powerful miner perform best without getting hotter than any other terahash bitcoin miner.
Every chip of the T9+ is fitted with custom-made heat sinks that are made of a high-grade aluminum alloy. The case of the T9+ is made of the same material. Two computer-controlled high-speed fans on both ends of the "tube" ensure that the hot air is rapidly replaced by cooler air at the required pace.
Ease of Use
Antminer T9+'s user interface has been carefully designed keeping in mind the needs of its users
After you have accessed the Antminer's user interface, all you have to do is to enter your wallet address and mining pool settings before you start mining. The user interface also allows you to customize settings and can be upgraded to new releases from Bitmain.
Terms and conditions:
Due to market fluctuations all sales are final, please review terms and conditions for our ZERO returns policy.
 i apply my firmware mod to GREATLY enhance the units profitability – literally changing it from a 10TH at 1500 watt miner into a 13-14TH machine STABLE LITERALLY HAVE HAD UNITS FOR 5 YEARS WITHOUT FAIL runnng this way note 14Th/s pulls LESS WATTAGE then the unit does stock even – This is a literal bump in performance by 40% WHILE LOWERING THE ELECTRICAL CONSUMTION 20% 
 T9+ Tuned Units 13-14Th/s STABLE hashrate at 1300 watt – units can be run AT INSANE IFFECIENCY if heavy heavy downtuned – example units will do 7TH/s at under 500 watt – literally running almost silent at these settings if running in extreme low power mode the unit GETS under 70 watt per 1 TH efficiency!!!
HOW THEY COME PRE TUNED WITH MININGCRATE/VNISH FIRMWARE at a STABLE 13-14TH/s at 12-1350watt 
FULL UNIT
-FRAME
-HOUSING
-3x DATA CABLES
-3x HASHBOARDS
-2x FANS
-1x FAN GRILL
-Control Board
-UNLOCKED FIRMWARE SSH OPEN you can change to anything if you so choose or to return to stock.
BUY WITH CONFIDENCE – BULK PRICING AVAILABLE ON MY SITE MININGCRATE USING CryptoPay for LARGE discounts and NO tax CHARGES