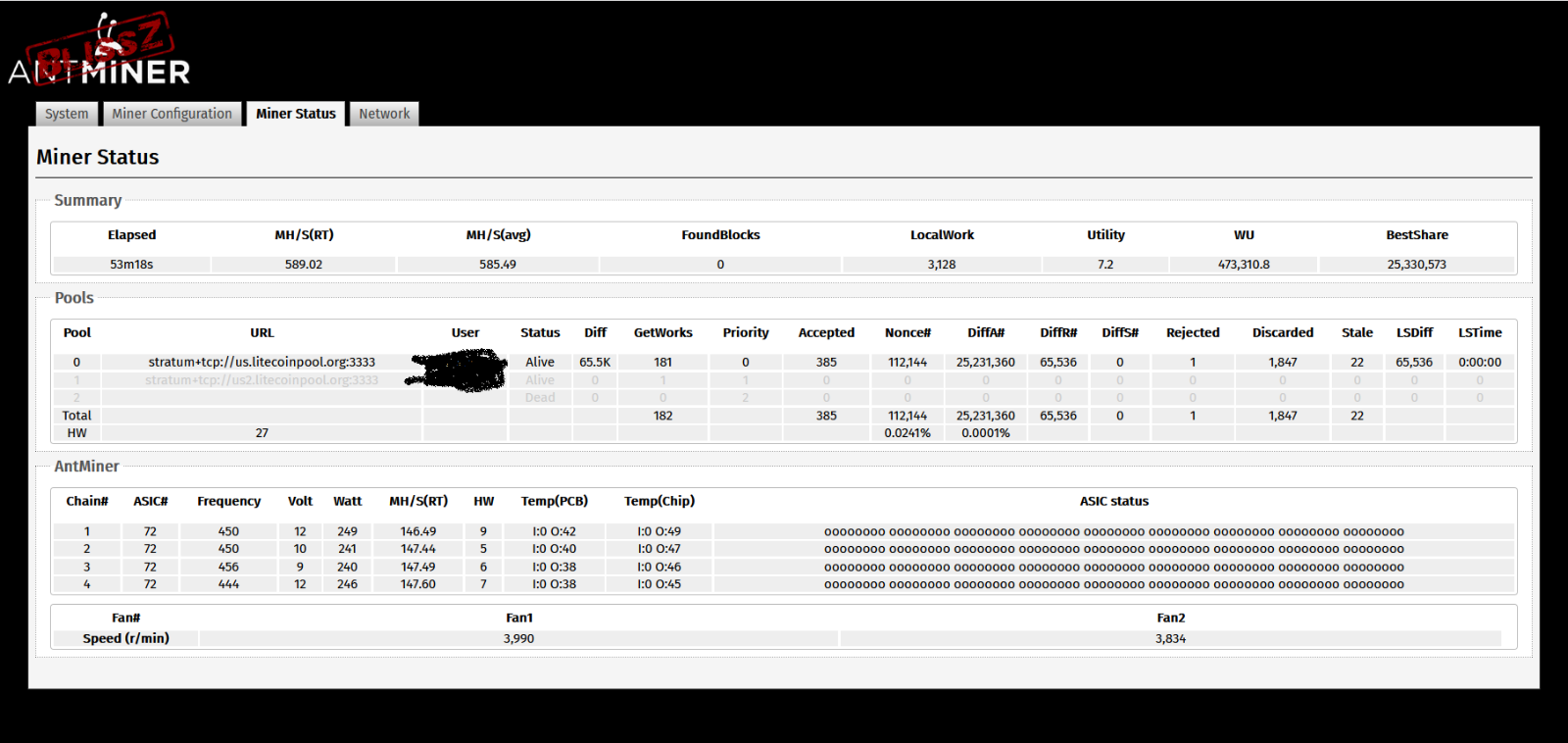 Price: 0.99 USD
Crypto Miner:
Antminer L3+ L3++ Blissz Firmware v1.02 NO DEV FEE CANNOT FIND SIGNATURE FIX SSH
WARNING WARNING WARNING (THIS IS REAL PLEASE READ)

There is a copy of this floating around on the web that has an added "parasite" miner to it. Please do not fall for it as it will obvious cause you issues and could damage your machine. If you didn't get it from me, the creator of this, then you run a big risk of parasite mining Trojan being injected to your machine. I have been offering this for sale since early 2020 and I have the feedback to back it up when I made it, don't fall for scams on eBay either from copy cats that inject harmful codes into their.
____________________________________________________________________________________________________________________________________________________
(UPDATE! 01/04/2022) NEED TO REMOVE A VIRUS? NEED TO REMOVE HIVE OS? OR EVEN RECOVER A "Bricked" BOARD?
Unlike other methods, I have been told by multiple customers that this has recovered bricked boards, removed HIVEOS and other viruses for their miners as well. (Look at my feed back for proof) I did not build it for this purpose and cant guarantee it as brick reason do include hardware failure, and viruses are different in their own , but it can aid in these situations if not full restore your miner back to YOU MINER.

____________________________________________________________________________________________________________________________________________________
You will get the latest and the best existing Blissz custom firmware for Antminer L3+ and L3++ (v1.02 stable, No Dev Fee)! Plus addition files and a text file with full, simple instructions to get past the "Cannot find Signature" error when updating firmware if you have the 2019 Stock firmware installed.
WHY IS THIS FIRMWARE BETTER THAN THE OTHERS ON eBay?: First of all, My Name is Robert Oliver, I will put my name on it it will work to unlock your miner. Second: This is a recovery image that I made that makes it possible to load the Blissz firmware if you have the locked firmware that Bitman started doing recently in attempt to make it make it impossible to load custom firmware on the L3+/L3++. If you have the more recent firmware from Bitman, the other firmwares on ebay wont work. If you don't have the locked firmware from bitman, than this image will still work with that as well. I see other ebayers listing a "No signature fix" for close to 3 times the cost that I'm charging for mine and their is not even guaranteed to work, put their name on it because they don't have enough experience to help you with issues which is normal in this scenario (or charge for extra help, and theirs requires more steps.
This is a SD Card Image, not and actual sd card, you will simply drag and drop the content of the zip file I send you to a micro sd card. It is a 1 Step process that will not only load the latest Blissz for the L3+ and L3++ over any firmware, but will also bypass the "Cannot Find Signature" error that prevents you from loading the image if you have one of the newer Antminer firmware that block 3rd party firmware. Just load onto your SD card, start your miner, count to 30 or wait until lights turn green, turn miner off and remove SD card and turn miner back on. THAT'S LITERALLY IT! I built this SD card image specifically for the Signature Check. But it also works as loading the Blissz firmware even if you don't need the Signature Check bypass. This software was specifically designed to bypass the stock firmware from bitman, although I won't be able to give %100 support on other 3rd party firmware image removal, I will say I have had customers report it to work on removing other 3rd party firmware that lock your miner as well.
Removed Dev Fee pools! (You will still see a "Dev fee" options, but it is coded out in the background and even if you click it it will not mine it)

Regain SSH Access!
Get rid of "Cannot find Signature" when trying to update firmware!
One time purchase. It can be applied to as many machines as you need.
• Unlocks voltage global or individual per chain. Saves up to 20% energy usage compared to the stock firmware. (Example L3+ unit runs ~504Mh/s @ ~670watt)
• Adds frequency setting per individual chain.
• cgminer update to 4.10
• Adds 3 fan profile modes
• No more high fan speed during startup
• Faster startup time
• Cleaned up web interface
• Cleaned up kernel log
• Flash back to the default firmware at any time, no special steps needed.
• Increase the life and efficiency of your miner.
Common Question: But wait, I do not have a micro SD card slot on my miner? Now what?
Answer: Look on the back of the control board where the white wires from you 4 boards plug in, see if you have one, it will be on the bottom of the board! See picture in auction listing above!
ATTENTION: Be sure that your miner has a working micro SD card slot! This listing is for an image only, not a physical sd card. We do not offer refunds if you realize you miner does not have an sd card slot, so please check first.
You will receive the file link most of the time either instantly if I'm near my computer at time of purchase, usually with in 0-5 hours, or at a maximum with in 12-24 hours after payment! Info will be sent through ebay messenger after transaction is completed.
ABSOLUTELY NO REFUNDS WHATSOEVER! ALSO DUE TO BUYER NOT REALIZING THAT THEIR MINER DOES NOT HAVE A SD CARD, OR BECAUSE THEY DON'T KNOW HOW TO USE THE DOWNLOAD LINK.
I LOVE TO HELP PEOPLE. IF YOU HAVE ISSUES AFTER YOUR PURCHASE PLEASE REACH OUT TO ME.