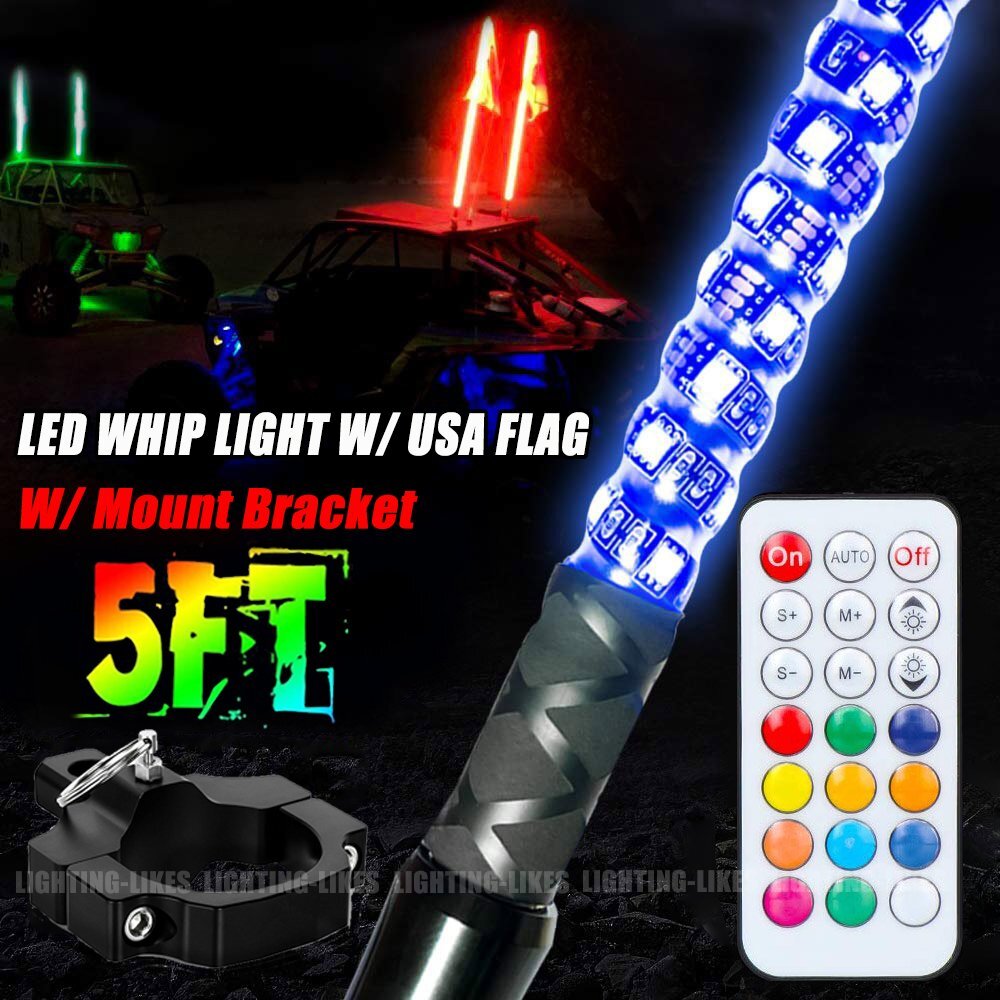 Price: 89.99 USD
Bitcoin Miner:
5ft RGB LED Lighted Antenna Lights Whip + Mounting Brackets For ATV UTV RZR Jeep




5ft RGB LED Lighted
Antenna
Lights Whip + Mounting Brackets For ATV UTV RZR Jeep
Features:
1. LED Whip Light with Black Quick Release Base

2. Silicone Coated for Durability & Vibrance

3. Unique Design for Brighter Light Display

4. Sealed to protect from water, mud, sand, dirt, wind, etc.

5. Resistant to Shock and Vibration

6. 20 patterns to choose from, Adjustable Speed and Brightness
​
Specification:
Size: 5ft / 1.5M

LED: 5050 chips

Color: 20 color options(RGB, blue, red, green, white, yellow, orange, pink, purple, and custom configurations)

Pattern: 300 kinds of pattern(chasing, build-up, strobe, flash, blink, and more)

Mode: 63 kinds of mode, Brightness: 32 levels, Speed: 10 levels

Lifespan: 50,000+ hours

Waterproof: Ip67

Operating voltage: 12-24V DC

Operating temp: -40℃ to 58℃

Material: Housing: EVA + silicon, Base: aluminum with quick release, Harness: PVC, Flag: nylon

Overload protection: yes

Radio frequency/RF: 433Hz

Service distance of remote control: 10M
​
Mount Bracket Features:
WHIP LIGHT MOUNT: Mounting bracket for LED whip light comes with lock pull pin to easily collapse the whip down for storage of your UTV, ATV, Buggy, Sand Rail, RZR, 4 Wheeler and Off Road vehicle when transported.

HIGH QUALITY MATERIAL: Made of aluminum construction, anti-shock, heat-resistant and anti-corrosion, durability.

FITMENT: Universal for whip lights, spot lights, lightbars, etc. Hole Diameter: 1.8″ (Without Rubber Inserts).

EASY INSTALLATION: Just need to clamp it on your bull bar or grill guard without drilling holes to it. Mounts to 1.75″ to 1.9″ Roll Bars (With No Modifications Required)
Application:
 
The universal LED whips can be installed in any location no matter what make and model you drive, you're sure to find the perfect position for it. 

Apply to: for Pickup Wagon UTB Cab ATV SUV Jeep Truck Boat Bus

Apply to: for Sport Utility 4WD 4X4 Mining Marine Car excavator

Apply to: for Tractor UTE Van Camper road roller bulldozer crane

Apply to: for Polaris RZR XP1K RZR 1000 RZR 900.

Apply to: for RZR Offroad Jeep Rhino Sandrail Canam Buggy UTV.

Apply to: for Ford F150 F250 F350.
​
Package Includes:
1 x 5ft Lighted Whip with Base

1 x Remote Control

1 x USA Flag

1 x LED Whip Light Mount Brackets
Item Specifics
Brand
Aaiwa
Manufacturer Part Number
Does Not Apply
Warranty
3 Year
Item Type
360 Degree Spiral LED
Placement on Vehicle
Left, Right, Front, Rear, Upper, Lower
TO FIT
for RZR, Polaris, Can-am, Yamaha, Honda, SxS, Buggy,Truck
Interchange part Number
Flag Pole Safety Sand Dune Buggy, Quad, UTV, ATV
Operating Voltage
DC 12V
Work Type
Remote Controlled
Tube
Flexible Polycarbonate Tube
Compatible
Universal for ATV UTV RZR Polaris Jeep Off-Road
Color
RGB
LED Type
5050 LED
Type
Antenna Flag Pole LED Whip Light
Size
5FT / 1.5M
Feature 1
Bendable & Anti-shock & Waterproof
Feature 2
20 color combinations, 5 brightness levels, 10 flash patterns
Fitment Type
Direct Replacement
Fitment 1
for Snowmobile, Truck, Off-road, Go Kart, Golf Cart
Fitment 2
for ATV, Quad, UTV, Dune Buggy, Sand Rails, Mining Rig
Fitment 3
for 4 wheeler, truck, RZR, Polaris, Jeep, ATV, UTV
Contents of the package
1 x Lighted Whip, 1 x Remote Control, 1 x Mount Brackets
Application
As a gift (Christmas gifts or birthday gift or etc)
Payment
1. We only accept payment via PayPal.
2. E-check payment will be held until the payment is cleared. Item can only be shipped out when all payment is cleared.
3. Please make sure your eBay address is correct before you pay.
4. Because the ebay final value charge of the transaction, all the unpaid case will automatically opened after 4 days.
Shipping
1. United States Shipped by USPS/UPS/Fedex, usually takes 3-7 working days to complete delivery.
2. Package will be sent out within 24-48 hours after the pament is cleared.
3. Pick-up is unsupported service.
4. We will not be responsible for any delivery failure due to unclear address.
5. Delivery is not available on weekends, public holidays or after business hours.
6. If you have any questions or issue about delivery, please contact us via eBay Messages and we will do our best to make sure you're happy.
Returns
1. We will accept returns or refund or exchange if they are unused and unmarked within 60 days.
2. If you received wrong of defective products, please take photos and contact us to confirm.
3. We must protect your interest as promsied. Remember to contact us via eBay message firstly. Please don't open the return request. Thanks in advance!
Contact Us
1. Office Opening Times: Monday to Friday-9:00AM-18:00PM Beijing Time.
2. If you have any quesction, please contact us. We'll respond within 12-24 hrs on weekdays. If no response within 24 hrs, please check the spam in your mail box.
3. Ask us about bulk discounts if you want to buy 3 or more.
4. Our store is good ebay seller and we are renowned auto suppliers seller in China who had earned the highest feedback on high quality we have factory in HongKong.
5. Our Company is a Branch company that of a manufacturer which producing the lighting equipment and accessories for vehicles. We move and in charge our main business in E-commerce on eBay nowadays.
5ft RGB LED Lighted

Antenna

Lights Whip + Mounting Brackets For ATV UTV RZR Jeep

 

 

Features:

 

1. LED Whip Light with Black Quick Release Base

2. Silicone Coated for Durability & Vibrance

3. Unique Design for Brighter Light Display

4. Sealed to protect from water, mud, sand, dirt, wind, etc.

5. Resistant to Shock and Vibration

6. 20 patterns to choose from, Adjustable Speed and Brightness

​

 

Specification:

 

Size: 5ft / 1.5M

LED: 5050 chips

Color: 20 color options(RGB, blue, red, green, white, yellow, orange, pink, purple, and custom configurations)

Pattern: 300 kinds of pattern(chasing, build-up, strobe, flash, blink, and more)

Mode: 63 kinds of mode, Brightness: 32 levels, Speed: 10 levels

Lifespan: 50,000+ hours

Waterproof: Ip67

Operating voltage: 12-24V DC

Operating temp: -40℃ to 58℃

Material: Housing: EVA + silicon, Base: aluminum with quick release, Harness: PVC, Flag: nylon

Overload protection: yes

Radio frequency/RF: 433Hz

Service distance of remote control: 10M

​

 

 

Mount Bracket Features:

 

WHIP LIGHT MOUNT: Mounting bracket for LED whip light comes with lock pull pin to easily collapse the whip down for storage of your UTV, ATV, Buggy, Sand Rail, RZR, 4 Wheeler and Off Road vehicle when transported.

HIGH QUALITY MATERIAL: Made of aluminum construction, anti-shock, heat-resistant and anti-corrosion, durability.

FITMENT: Universal for whip lights, spot lights, lightbars, etc. Hole Diameter: 1.8″ (Without Rubber Inserts).

EASY INSTALLATION: Just need to clamp it on your bull bar or grill guard without drilling holes to it. Mounts to 1.75″ to 1.9″ Roll Bars (With No Modifications Required)

 

 

 

Application:
 

The universal LED whips can be installed in any location no matter what make and model you drive, you're sure to find the perfect position for it. 

Apply to: for Pickup Wagon UTB Cab ATV SUV Jeep Truck Boat Bus

Apply to: for Sport Utility 4WD 4X4 Mining Marine Car excavator

Apply to: for Tractor UTE Van Camper road roller bulldozer crane

Apply to: for Polaris RZR XP1K RZR 1000 RZR 900.

Apply to: for RZR Offroad Jeep Rhino Sandrail Canam Buggy UTV.

Apply to: for Ford F150 F250 F350.

​

 

 

Package Includes:

 

1 x 5ft Lighted Whip with Base

1 x Remote Control

1 x USA Flag

1 x LED Whip Light Mount Brackets

 

1. We only accept payment via PayPal.

2. E-check payment will be held until the payment is cleared. Item can only be shipped out when all payment is cleared.

3. Please make sure your eBay address is correct before you pay.

4. Because the ebay final value charge of the transaction, all the unpaid case will automatically opened after 4 days.

1. United States Shipped by USPS/UPS/Fedex, usually takes 3-7 working days to complete delivery.

2. Package will be sent out within 24-48 hours after the pament is cleared.

3. Pick-up is unsupported service.

4. We will not be responsible for any delivery failure due to unclear address.

5. Delivery is not available on weekends, public holidays or after business hours.

6. If you have any questions or issue about delivery, please contact us via eBay Messages and we will do our best to make sure you're happy.

1. We will accept returns or refund or exchange if they are unused and unmarked within 60 days.

2. If you received wrong of defective products, please take photos and contact us to confirm.

3. We must protect your interest as promsied. Remember to contact us via eBay message firstly. Please don't open the return request. Thanks in advance!

1. Office Opening Times: Monday to Friday-9:00AM-18:00PM Beijing Time.

2. If you have any quesction, please contact us. We'll respond within 12-24 hrs on weekdays. If no response within 24 hrs, please check the spam in your mail box.

3. Ask us about bulk discounts if you want to buy 3 or more.

4. Our store is good ebay seller and we are renowned auto suppliers seller in China who had earned the highest feedback on high quality we have factory in HongKong.

5. Our Company is a Branch company that of a manufacturer which producing the lighting equipment and accessories for vehicles. We move and in charge our main business in E-commerce on eBay nowadays.

Payment Policy

Shipping Policy

Return Policy

FAQ

About Us