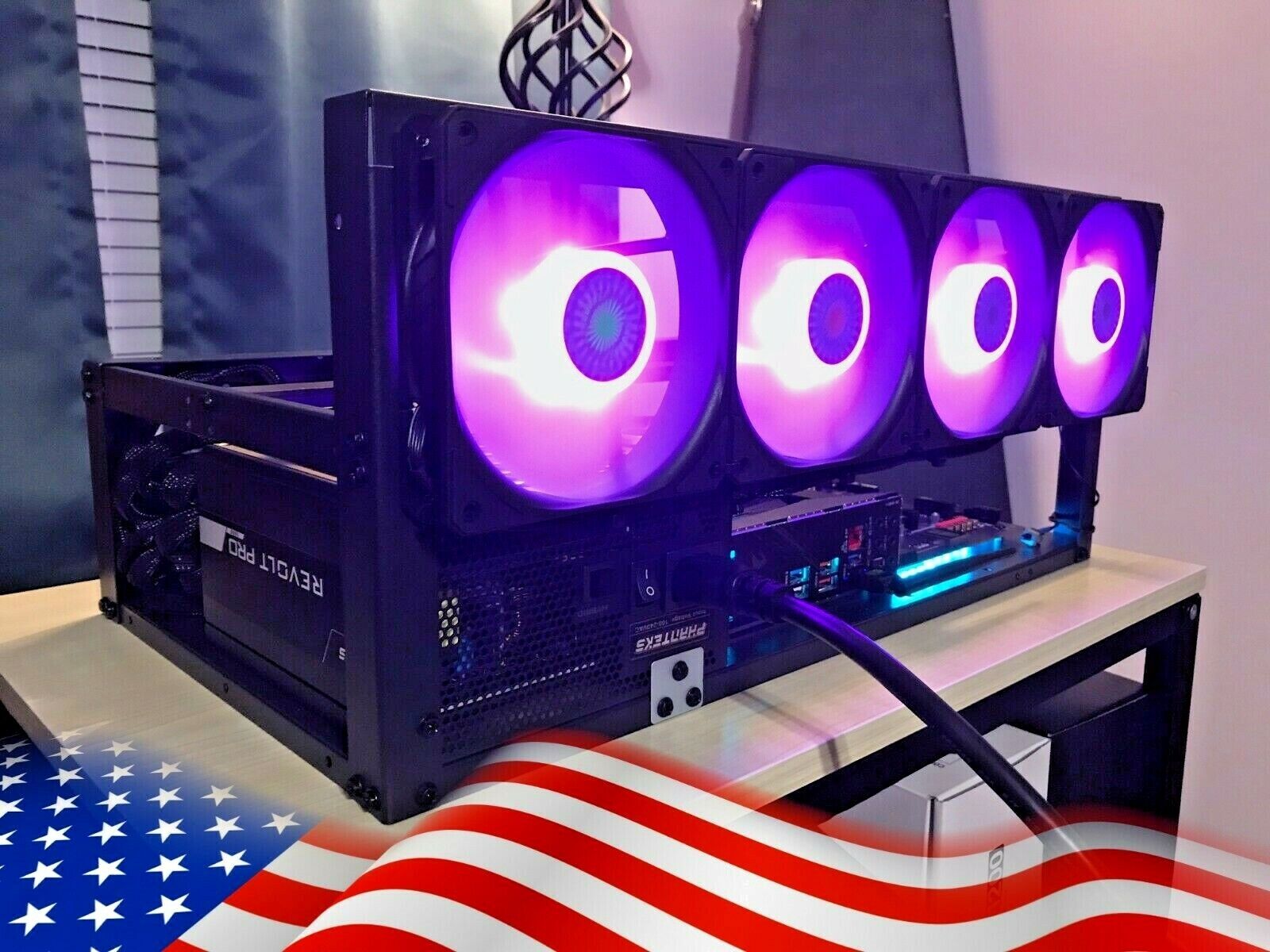 Price: 1,659.99 USD
Crypto Miner:
✅ Premium Ethereum Crypto Mining Rig Kit—Plug And Play Miner
New RGB Cooler Master Miner
Built By Certified Technician

** No GPUs or Input Hardware **
System Specifications:
CPU: Intel Pentium Gold 6400T
RAM: Patriot Viper Steel 8GB DDR4
MOBO: Gigabyte Z490 AORUS Elite
SSD: Samsung 256GB m.2 2280 SSD
PSU: Phanteks Revolt 1000 80+ Gold
OS: Windows 10 Genuine Activation
EXTRA: Realtek RTL8188 4dbi Wifi
-Ideal for (6) RTX 3060 TI or 3070s

-Suitable for Most Cards-1000w 110v
-Potential Yearly Return of ~$5,962.32
-Includes Full 30-Day Limited Warranty

Premium Accessories:
1 x 10′ 14-AWG Power Cable
1 x 10′ Gold-Plated HDMI Cable
1 x 6+2 Dual Extension [10-Pack] 

6 x M2.5 Screws for Holding GPUs
6 x Ver009s-Plus Gold-Plated Risers

Frequently Asked Questions
:
How long have you been building these and what's your technical certification?
I have been building computers since about 2012, which is about the time I left
college. I eventually pursued my career in industrial manufacturing, and by 2018
I became certified at York College of Maine for Aerospace Quality Manufacturing.
Why do you rate some of your builds for only 1,000w when the PSUs are 1800w?
I certify my builds for 1,000 watts at 110v because that's realistically what these 
mining power supplies can handle running 24/7. Most other sellers you see rating 
their systems for 1200w (+) are reflecting 220v max and not 110v continual output.
Are there tools or software preloaded onto your builds and where should I begin?
I preload all of my builds with an activated and updated version of Windows 10,
including protection tools like Kaspersky Anti-Virus and EVGA Precision. Mostly
my systems are Plug & Play, allowing you to install graphics cards and start mining.
How do you determine the value of your builds and what's your price calculation?
I calculate the final value of my listings based on an Excel formula which sums
together the price of components, my labor into the build, and any fees associated
with the sale. Customers are always welcome to pickup locally and save on shipping.
Should I have more than 1000w to mine with? Aren't RTX 3080s or 3090s better?
I design these systems specifically for maximum efficiency with the absolute best
Nvidia cards to mine with, which are the Non-LHR RTX 3070s. The reason for this 
is because 3080s and 3090s require much more pre-work for mining, such as thermals.
What is your Service Guarantee? What if my system fails within the first 30 days?
I warranty my computer builds for 30 days, which means if your system fails under
normal circumstances and not user error, then I will exchange any faulty components
with replacement components so long as you are still within the warranty Grace period.
______________________________________________________________
Sale Disclaimer: I reserve the Right as the seller to cancel any purchase from
eBay users with less than 20 feedback. Please do not bid or Buy It Now unless 
you have more than 20 feedback to avoid these types of cancellations. Feel free
to contact me if you have any issues, as I offer all of my customers free technical
support, and provide 100% customer satisfaction guarantee. Best, straitgatedeals